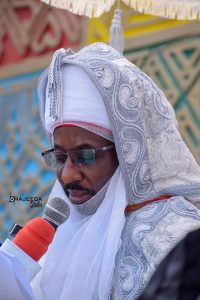 Nigerian Concord Newspaper
The Coalition for Truth and Justice has called on security agencies to immediately arrest the deposed Emir of Kano, Sanusi Lamido Sanusi and fifty one others to face charges of terrorism over their roles in the killings going on across the country.
The group gave this charge in a press release signed by its national coordinator, Mr. Aloysius Gbakaan.
The Coalition for Truth and Justice was particular about the revelation that Sanusi Lamido Sanusi and some others have profiled the governor of Benue state, Chief Samuel Ortom for elimination just because of his firm stand against the poor security situation of the country under the APC administration led by President Muhammadu Buhari.
The group also raised its displeasure over the false allegation made against Governor Samuel Ortom by Sanusi and his cohorts as the person behind the recent military attacks in Nasarawa state.
The statement reads:
We are concerned about the recent wave of attacks on, and deliberate profiling of Benue state Governor Samuel Ortom by Fulani leaders, led by former Emir of Kano, Sanusi Lamido over the January 24 killing of about forty suspected Fulani terrorists in Akwanaja, Doma Local Government Area of Nasarawa State.
Particularly worrisome is the concerted efforts being made by the Fulani elders to blame Governor Ortom for a military operation which the Defence Headquarters has claimed responsibility for and said it was carried out based on credible intelligence.
The CTJ expects a highly exposed and educated personality like Sanusi to know that a state governor has no power to direct a federal government security agency on what to do, especially when it concerns operations such as the one that took place on the said day.
The former Emir is supposed to be a statesman in his own right, but his selective and sentimental concern over killings of Nigerians smacks of bigotry and insensitivity. This is a man that maintains deaf ears whenever the killings are perpetrated by his kinsmen, the Fulanis.
That he has never condemned the killings in Benue and other parts of the country, especially those carried out by his fellow Fulanis, exposes him and his band of extremists as enablers and co-sponsors of the ethnic cleansing in Benue State.
The letter Sanusi and fifty-one other Fulani elders wrote to Buhari clandestinely urging him to hang Ortom for an action carried out by the military was a clear sign that they know what other Nigerians do not know and are out to execute their expansionist agenda to the finish. His video calling for Ortom's head, and the interview he (Sanusi) granted BBC Hausa Service where he heaped unfounded allegations on Governor Ortom over the Open Grazing Prohibition and Ranches Establishment Law of Benue State also testified to Sanusi's hatred for Ortom and their desire to see him eliminated by their foot soldiers.
We are curious that highly educated Fulani elders like Sanusi, Professor Usman Yusuf, former Bauchi State Governor Isa Yuguda and many others are feigning ignorance of the constitutional powers of State Houses of Assembly to make laws for the good governance of their states. If not, why would they be against the open grazing prohibition and ranches establishment law of Benue state?
The Fulani elders need to stop grandstanding and urged their kith and kin to embrace ranching, which is the modern trend in cattle rearing, if they must carry out their trade in Benue state, or choose elsewhere as the archaic mode of animal husbandry has been outlawed in the state.
The law is not the making of Governor Ortom solely; the entire Benue people demanded for that legislation and it was given to them to curb incessant clashes between farmers and herders. But Fulani pastoralists have vowed to resist the law violently and they are doing just that as reflected in the constant massacre of innocent people in their communities and displacement of over two million others, thereby creating a serious humanitarian situation in the state.
While we also agree that the bombing in Akwanaja be investigated by relevant authorities, we call on Sanusi and his horde of mischief makers to caution their brothers against disobedience to laws of places they found themselves and desist from taking laws into their own hands just because they are told to be law-abiding.
We equally call on the federal government to beef up security around Benue communities in Gwer-West, Guma and other parts of the state where Fulani militia are threatening to launch more attacks on the people. These types of threats were issued by Miyetti Allah in 2017 but were taken for granted and the armed herders carried out the attacks which left 73 people dead on the eve of 2018 new year. The mindless bloodletting must not be allowed to continue.
We maintain our position that Governor Ortom had no hand in that military operation which took place outside Benue state and should be left to carry out his functions without the barrage of attacks on his person.
The CTJ also wants relevant security agencies to call Sanusi and the other Fulani elders to order and beam searchlights on them and their foot soldiers especially at this time that they are desperate to eliminate Governor Ortom after seven previous failed attempts.
The people of Benue also need to shun their differences and stand behind the Governor who has been made a scapegoat by enemies of the state due to his firm resolve to protect the lives and property of his people.
We want to state emphatically that any attack on Governor Ortom is an attack on all Benue people. We will not fold our alms and watch extremists castigate the Governor and get away with it. Governor Ortom has our popular mandate and whatever he says regarding the security situation in the state, he does so on our collective behalf. He speaks our minds and we are solidly behind him.
We reiterate our support for Governor Ortom and call on him to remain resolute in his burning desire to ensure that he leaves Benue state better than he met it despite the evil machinations of some unpatriotic Nigerians disguised as concerned statesmen.
Lastly, we urge security forces to invite the 52 persons led by the dethroned Emir of Kano Lamido Sanusi who wrote the inciting letter to Mr President regarding the Akwanaja incident for investigation. There is something they know that the rest of the country is not yet aware of. Terrorism is one of the biggest challenges facing Nigeria at the moment, and if any group appears to tacitly support those who perpetrate acts of terror on the people, such a group of individuals surely have questions to answer.