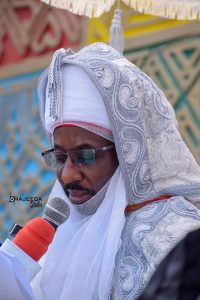 Nigerian Concord
Governor Samuel Ortom's Special Adviser on Media and Publicity, Mr Terver Akase says that the fall from grace to grass of the deposed Emir of Kano, Sanusi Lamido Sanusi has affected his reasoning.
Akase said this in a press statement he signed to react to an interview which Sanusi granted the BBC Hausa Service where he again leveled baseless and senseless allegations against Governor Samuel Ortom in continuation of the desperation to profile the Governor and set him up for elimination.
According to the statement, Sanusi's latest shameful outing comes barely three days after he made a widely circulated video accusing Governor Ortom of being behind the reported bombing of a suspected terrorists' hideout in Doma Local Government Area of Nasarawa State.
Akase also accused the deposed Emir to have also written a letter full of fury, bile and false allegations against the the Governor, which he (Sanusi) and 51 other Fulani elites signed and sent to President Muhammadu Buhari, apparently in a bid to have the backing of the President to execute their agenda against Governor Ortom and the Benue people in general.
The statement reads in part:
A man of Sanusi's standing ought to have known that a state Governor is not the commander-in-chief of the armed forces and could therefore not have ordered the reported bombing in Doma, Nasarawa State. Even if the Governor has the constitutional right to request for military involvement in any security situation, his power to do so ends in his state and does not extend to a neighboring state. We wonder how logical Sanusi's claim is that Governor Ortom ordered the bomb incident in Nasarawa. Only a man who has lost touch with reality; is suffering from the negative impact of his fall from grace, or is yet to recover from the combination of both factors would make such an insensitive comment such as the one attributed to the defrocked emir.
Sanusi had for years disguised himself as a patriot and nationalist, but his hypocrisy was exposed long before now. There is little or no wonder that he was deposed by the Kano State Governor, Abdullahi Ganduje for his crass indiscipline and uncommon arrogance.
As a government and people of Benue State, we have withdrawn our sympathy for Sanusi over his dethronement which ab initio looked like victimization, but many Nigerians have now come to realize that it was actually well deserved due to his disregard for constituted authorities and support for lawlessness. His open support for Fulani pastoralists to disobey the law made by a state attests to the fact that Sanusi is indeed one of those sponsoring militia herders to perpetuate mayhem in Benue State and other parts of the country.
He was long dethroned and should not be parading himself as an emir. He should focus on fighting the ghost of his past that cost him much in life as a public servant culminating in unresolved controversies, highhandedness and maladministration while he served as governor of the Central Bank of Nigeria. As an erstwhile royal father, Sanusi is expected to be helping to build a united nation rather than channeling his energy towards profiling and setting a state Governor up for elimination by his Fulani kinsmen.
Sanusi is well known as an unrepentant alarmist and a mischievous rabble-rouser all his life. His allegations against the National Assembly where he paraded fictitious figures as what accrued to the Senators and members of the House of Representatives cost him a lot of damage as a hitherto, respected personality. This is a man who lost his position as the governor of the Central Bank of Nigeria because he was being used to sabotage a government he served. Sanusi's failure to learn from his sack as the CBN governor was responsible for his loss of the throne and attendant banishment from the emirate where he held sway.
We are not surprised that he is leading those who are clandestinely justifying the killings in Benue State, because a man who betrayed the President under whom he served as head of the country's apex bank won't blink an eye setting on fire someone he barely knows but sees as an enemy. This hypocrisy of looking the other way when those killed are not of Fulani extraction as if their lives do not matter only goes to confirm Sanusi's status as an ethnic champion adorned in a pretentious garb of a nationalist.
We advise the deposed emir to desist from spitting on the graves of hundreds of Benue people who have fallen to the sword of his kinsmen. The thousands who have been living in internally displaced persons camps do not deserve insults being hurled at them by Sanusi and his nameless group of extremists.
We expect the former emir to withdraw all the unguarded utterances he made against Governor Ortom and tender an unreserved apology as the Governor had no hand in the bombing in Nasarawa, because it is beyond his powers to authorize such operations.
We once again remind Sanusi that Governor Ortom was not responsible for his dethronement. He should face those who chased him out of his kingdom into the cold and allow Governor Ortom to lead Benue according to the extant laws of the country and legislations made by the Benue State House of Assembly such as the Open-Grazing Prohibition and Ranches Establishment Law.
Sanusi may also consider deploying his energy towards the military who have not denied being behind the air operations in Nasarawa State and spare the Governor's name.