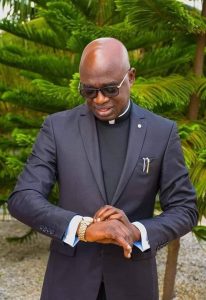 Nigerian Concord Newspaper
Nigerian Concord Newspaper can authoritatively report that the scanty number of people at APC governorship rallies is the real reason the candidate of the Benue state chapter of All Progressive Congress, Reverend Father Hyacinth Alia is campaigning in Tiv local governments at nights.
According to findings, the APC candidate who had been briefed that Tiv people are not in his support told his strategists on the need to move from one local government to the other with the same set of people they rented for his rallies at nights.
One of the aggrieved members of the APC campaign Committee who spoke with Nigerian Concord Newspaper on a condition of anonymity said: "To cover the ugly situation, Alia directed his strategists to beam the light on where the rented crowd from one local government to another are standing and take pictures to upload on social media. It has been very shameful outings so far for the APC campaign team.
"It is the fear of seeing more scanty rallies that made us go to Logo local government at 4am, and we are only creating an impression that the people are so eager to see our candidate and that they wait till late night or even the early hours of the next day"