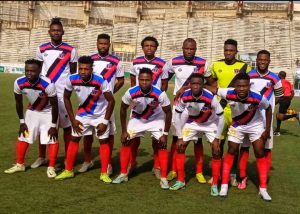 Any one whom God has blessed is blessed.
Even his mistakes are turned to miracle by God.
Don't fight whom God has chosen, just team up with him.
*Last season first round.
19 games 19 points.
*This season
First round.
9 games 19 points.
What a wonderful and dramatic progress?
We can now see that heavens is behind Mr Dominic Iorfa.
McCarthy stadium transformed at his time. Aper Aku stadium to be renovated to a high taste at his time.
Players from grassroots are making tremendous waves at his time.
Fans of lobi stars had peace at his time.
This is just to mention a few.
The slogan for this season is
Unity is power
United we stand
Progress is sure
All these are coming to pass because the Lord has found a set man at the top.
Mr Dominic iorfa VC/ CEO, the talk and do, ex international.
The level you have reached now is God
The next level you intend reaching is still on God.
It's not easy to be at the top. The only way to sustain your top position is on God and hard work.
There is still a glory ahead
Compiled by a fan of Lobi Stars