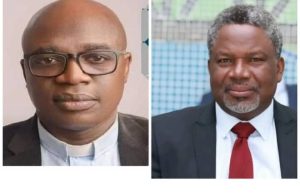 By Teryila Daniel, Makurdi
There are strong indications that the APC leadership in Benue State are working behind the curtains to compromise the petition filed by Rt. Hon Titus Uba, the PDP governorship candidate in the just concluded elections.
Multiple sources close to the Benue's major opposition party told Nigerian Concord Newspaper that, worried by the weight of Titus Uba's petition against the election of Rev. Fr. Hyacinth Alia as Governor of Benue State, APC foot soldiers saddled with the task of ensuring that Uba's petition fails are bragging that they have perfected plans to rubbish the petition.
The sources who pleaded not to be named informed this newspaper that they have concluded plans to puncture the petition of the PDP by claiming that the APC Deputy Governor-elect, Sam Ode did not falsify any document but rather, the claims by the PDP were incorrect.
It was learnt that officials of the Federal High Court, Abuja were promised the sum of One Hundred and Fifty Million (150,000,000.00) naira if they are ready to disclaim the letter from the court as a "forged" one.
Already, our sources reliably said the sum of fifty million (N50 million) naira has been given to the court officials as part payment for the deal.
The secret deal has raised the hopes of inner members of the Alia/Ode who before now were in a panic mode that their victory at the polls would not stand.
Alia was reported to have expressed anger and disappointment in Sam Ode whom he blamed for what is likely to lead to the nullification of their election.
Ode is accused of forging the court affidavit which he submitted to INEC while filing his papers as the APC deputy governorship candidate.
We will continue to beam our search light on the APC camp and officials of the Federal High Court and will promptly inform the public when and if the balance of N100 million is paid to the court officials to induce them to disclaim their own documents.