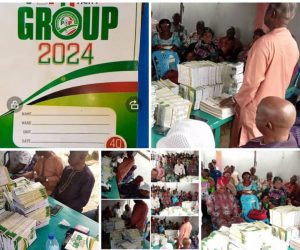 Nigerian Concord Newspaper
The attention of PDP Group 2024, the most powerful and influential group in the People's Democratic Party in Akure federal Constituency under the leadership of Hon. Prince Tony Ala has been brought to a press release by the party's House of Assembly candidate for Akure South Constituency One, Olajide Oguntodu, where he accused leaders and members of the group of working against him and other candidates of the party in Akure.
In his statement, Mr. Oguntodu who accused leaders of the group of working against his election in 2019 also criticized them for mobilizing to help an Akure son to achieve governorship in 2024.
Ordinarily, the People's Democratic Party Group 2024 is very preoccupied with plans for the 2023 election campaigns in Akure and it's environs, and shouldn't respond to those baseless allegations from Mr. Oguntodu and his co-travellers but we have decided to pen down a few things so the public will know the truth.
1. This group expects Oguntodu to concentrate on his election which comes up in less than five months and stop making baseless allegations against his destiny helpers. He himself knows that the allegations aren't true
2. This group wants to say it loud and clear that it didn't arrogate powers to itself as alleged by Oguntodu. Rather, the group is interested in winning the 2023 elections so as to make the Akure governorship in 2024 achievable. The group only said that all candidates must win but any candidate that needs its support must consult it. Is Atiku and other presidential candidates not consulting those groups and people whose supports they need, and when has that turned to arrogation of power as alleged by Mr. Oguntodu? Didn't Mr. Oguntodu and all other aspirants for House of Assembly in Akure South, House of Reps in Akure federal Constituency and the Senate in Ondo Central consult the same PDP Group 2024 during the last primaries? Was it also an arrogation of power at that time?
3. Contrary to Oguntodu's accusation, this group wants to clear it to the public that it has never held a meeting where it was discussed that any particular candidate of the party should be sabotaged at the next election.
4. This group believes that it is either Mr. Oguntodu is being economical with truth or that he and his co-travellers only want to seek for undue sympathies by making false allegations that some of our leaders 'sabotaged' him in the election which he lost in 2019.
5. This group believes that Mr. Oguntodu would have won the election if he had released money for logistics before and on the election day. Why is he accusing leaders of this group over his 2019 defeat when they aren't INEC and the electorates that decided the outcome of the election?
6. Regarding the allegation that this group isn't working for the success of the party's candidates in 2023 but rather chose to begin mobilizations for the 2024 governorship election in Ondo state, the PDP Group 2024 wants to say that the allegation is the figment of the accuser's imagination.
7. This group wants to say that it is working for the success of the party in 2023 so as to get an easy ride into the 2024 struggle for an Akure man to be governor of Ondo state after the expiration of the second tenure of Governor Rotimi Akeredolu. What is wrong if this group deems it fit to begin its mobilizations for 2024 now when there are reports about a particular group within Akure South that has begun the 2024 journey in the Southern Zone of the state?
8. The group condemns the first paragraph of Oguntodu's statement where he said: "Some elements within our great party working to sabotage our collective efforts". As a result of this statement, this group challenges the accuser and his co-travellers to mention the names of the elements they had assumed that are working against the PDP. Oguntodu cannot be a Catholic more than the Pope. He met all these leaders he described in paragraph two of his statement as "some subversive elements" in the great party and he cannot love the party more than they do.
9. This group also condemns another allegation by Mr. Oguntodu and his co-travellers that this group worked under the tables to scuttle their chances at the last primaries of the party. When has it become a crime for a group to have its own preferred aspirants at any primary election?
10. Reacting to paragraph ten of his statement, this group wants to inform Mr. Oguntodu that there are still some Akure indigenes who don't love the town and still go to the Southern Zone of the state to say that it's not time for Akure to be governor.
11. On planned attacks on some members of this group, the leadership of PDP Group 2024 wants to inform the public that a very worded petition had been deposited with the Ondo State Police Command so that the police will know who and who to hold accountable if any physical attack is made on any of the group members.
12. On the response from Princess Aderonke Adesida to Mr. Oguntodu's statement yesterday, this group wants to ask when it has become a crime for anyone to condemn anything that he or she thinks is not good for the party, society and Akure town. To the best of our knowledge, she is writing to condemn injustice and some acts that may ruin the chances of Akure in 2024. She should be commended.
Signed:
Aare Abiodun Oluwarotimi (De Oracular Oracle)
Director of Media and Publicity
PDP Group 2024