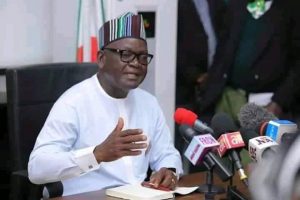 Nigerian Concord Newspaper
Reacting on the backlog of arrears of salaries and pension owed Benue workers and civil servants, the Special Adviser to Governor Samuel Ortom on Media and Publicity, Mr Terver Akase, said the APC-led federal government had blocked all the moves by the governor to secure a bond to clear the arrears.
Akase who was speaking as a guest on Harvest FM Makurdi's current affairs programme 'Good Morning Benue', however gave assurance that the State Government has not gone to sleep over the matter and all salary arrears will be paid before the end of the governor's tenure next year.
Recall that Governor had raised alarms many times that his efforts to secure loans to clear all the salary arrears were frustrated by the federal government because of his fight against Fulani killers in Benue state and Nigeria as a whole.
On the crisis rocking the PDP at the national level, Mr Akase said his principal, Governor Ortom and his counterparts from the four other states of Abia, Enugu, Oyo and Rivers have no personal interest nor problems with anyone but would continue to seek for fairness, equity and justice for all members of the party.
The former governorship aspirant on the platform of the PDP also called on President Mohammadu Buhari to back his orders with the desired political will to enable the military and other security formations tame the unprovoked killings and displacement of Benue people and other parts of the country.
"Nigeria's military is one of the best in the world. Our military has won many battles in the country and outside the country. What they need is the right political will and support from the Federal Government.
Reacting to the recently commissioned road and electricity projects in the state, Mr Akase said it was in fulfillment of Governor Samuel Ortom's promises to the people and the Governor's determination to leave a lasting legacy in the state despite the challenges confronting his administration.
Also, he said Titus Uba is the preferred choice of the people because of his vast experience, capacity and preparedness for the job.