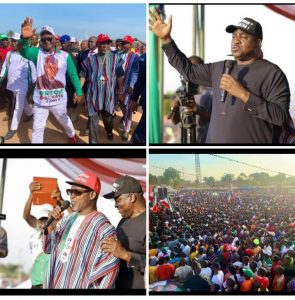 Nigerian Concord Newspaper
Benue state governor, Chief Samuel Ortom, said that the senator representing Benue Northeast at the National Assembly, Dr. Gabriel Suswam PhD, deserves a reelection in 2023 based on his excellent performance since he was elected as a senator in 2019.
The governor said this in his remarks during the flag-off of campaigns of the Chairman, Senate Committee on Power in Kwande local government today.
According to Governor Ortom, his predecessor had achieved a lot for the people of his senatorial zone and he deserves to get his reelection so he can perform more in 2023.
Governor Ortom in his speech also expressed confidence that the Peoples Democratic Party, PDP would retain all its elective positions in next year's polls.
According to the Governor, the massive turnout of supporters at the flag-off ceremony was an indication that the people of the Zone A Senatorial district are ready to vote for all PDP candidates.
In his words: "It is very clear with the crowd we are witnessing here that Kwande will again massively vote for PDP. It is an indication that Zone A with seven local government areas will massively vote for PDP. And I make bold to say that Zone B and C remain the stronghold of PDP in Benue State."
The Governor further maintained that the PDP had challenges in the state during the 2015 election when he defected to another party, stating that the PDP has since returned to its winning ways.
"I am aware that in 2015 PDP had problems when I left PDP for APC and because of the misrule of the APC in Nigeria, I came back to PDP and since then, we have occupied the space in Nigeria and in Benue State," Ortom said.
While thanking the people for turning out en masse for the flag-off ceremony, Governor Ortom assured them "we will continue to work together" for the good of the state.
He stressed "We believe in the unity of purpose. We believe in working together and that is why you have seen all of us here, Senator Suswam, myself, Senator Abba Moro and all the state House of Assembly and the National Assembly members here. I want to assure you that by the grace of God, come 2023, PDP will win all the way."