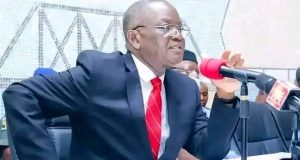 Nigerian Concord Newspaper
Commissioner for Health and Human Services, Dr Joseph Ngbea had disclosed that, Governor Samuel Ortom has released the sum of Fifty Million Naira ( N50, 000, 000. 00) for the accreditation of courses at the Benue State School of Health Technology, Agasha, BSSHTA.
Dr Ngbea made the disclosure when he received a team led by Mr. Vincent Nyinongu.
The Commissioner noted, that Governor Samuel Ortom is determined to improve the health status of Benue people saying, plans are underway to commence rehabilitation of Primary Health Care Centres, PHCCs across the three Senatorial Districts of the State. He stated that renovation works going on in Benue State University Teaching Hospital, BSUTH and General hospitals Gboko, Katsina-Ala, Okpoga and Obagaji will soon be completed for commissioning before December this year.
The Former State Chairman, Nigerian Medical Association, NMA further disclosed that Government has paid all Counterpart funding to access additional funds and medical consumables from partners adding, that with the development, $3 million dollars will be accrued to the ministry on a yearly basis for the next 5 years for malaria treatment.
Dr Ngbea who acknowledged the role of Journalists in the State assured them of collaboration, congratulated the new leadership and wished the a successful tenure.
Earlier, Vincent Nyinongu who commended the giant strides recorded by the ministry, said their visit was to familiarize with the Commissioner in other to establish a friendly relationship and collaboration for the benefit of the State.
As a fallout of the release of the accreditation funds, the Principal of the College, Mr Zar Daniel was in the office of the Commissioner to convey the appreciation of management to His Excellency, Governor Samuel Ortom for the release and assured that, the funds will be used judiciously for the purpose.
Mr Zar informed the Commissioner of the National final qualifying Examinations for students in the department of Community Health which begins from September 28th 2022 to October 9th, 2022.