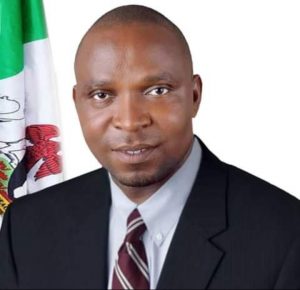 Nigerian Concord Newspaper
Former chairman of Ushongo local government area of Benue state, Hon. Joseph Asawa has raised an alarm over a blackmail against his person by an unknown man.
Recall that a media post popped up few days ago that Asawa defrauded some unnamed companies and businesses using false pretense.
But in a press statement he personally signed and sent to journalists, the former council boss said that he had never defrauded anyone or company in his life even when he was holding a public office.
The press statement reads:
For two days now, a faceless mischief maker was on social space with a mission to smear my personality with empty and baseless allegations of defrauding unnamed companies and businesses.
In his attempt, the coward tried in patching lies that I committed monumental fraud in several companies given impression that no enterprise should do business or employ me for a fee.
First I want the public to disregard the impression created by a faceless coward against my person and I hereby challenge anyone to confront the police or any other law enforcement agencies with evidences that I committed such crimes for the purpose of arresting me.
For the better part of my public life and engagements, I have been in the media world where my activities and interactions can attest to my fidelity.
When I left office in June 22nd, 2022, I have since relocated to my Akerior village in Utange ward of Ushongo local government mobilizing for the victory of PDP ahead of 2023.
Therefore, my identity and addresses are never hidden
So for anybody who for any unnamed reasons try to smear my name and tall political standing that I should not be trusted with any job has hugely miss the mark.
In a meantime, I have contacted security agencies and my lawyers who are working for the purpose of uncovering the faceless blackmailer.
Hon. Asawa Joseph
08060523286
Akerior Village,
Utange District,
Ushongo Local Government Area
Benue State.