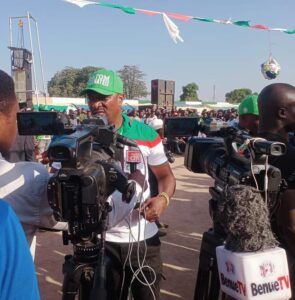 Nigerian Concord Newspaper
Franc Fagah Utoo, Esq, spokesperson for Samuel Ortom Senatorial Campaign Management Committee for Benue North West has dismissed media reports that the governor sponsored thugs to beat the immediate past chairman of Ushongo local government, Hon. Asawa Joseph at the flag-off of Zone B senatorial campaigns in Gboko on Tuesday for wearing a shirt with Atiku's name written on it.
This was contained in a press statement signed by Franc Utoo and made available to journalists this evening.
The statement reads:
We read in the media the story that the immediate past chairman of Ushongo local government area, Hon Joseph Asawa, was allegedly beaten by 'thugs' for wearing an Atiku campaign shirt at the Governor Samuel Ortom Senatorial Campaign Flag-off on Tuesday, 29th November, 2022.
We find the story as a deliberate mischief and distraction given that the campaign flag-off was largely successful and one of the most attended senatorial flag-offs since the return of democracy in 1999.
However, it is pertinent to state that neither Governor Samuel Ortom nor members of his Senatorial Campaign Management Committee could have sponsored thugs to harass people; not members of the opposition or party members like Asawa who disagrees with him.
Asawa himself knows that Governor Ortom does not promote thuggery, which is why his administration has zero tolerance for crime of any sort, political violence inclusive. The claim that he was attacked for adorning an Atiku regalia sounds a bit preposterous, he may have had personal issues with his attackers, because there were some other persons at the venue who appeared in Atiku's shirts unmolested.
While we condemn in strong terms any form of crime, we are certain that Governor Ortom is the next Benue North-West Senator who the people will elect based on his track records of speaking out vehemently on what concerns us all, and defending the people.