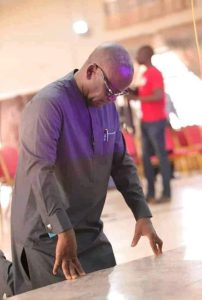 Nigerian Concord Newspaper
The immediate past governor of Benue state, Chief Samuel Ortom PhD has condemned the unjustified harassment he is facing in the hands of his successor, Father Hyacinth Alia.
Chief Samuel Ortom spoke through a press statement issued by his media aide, Mr Terver Akase while reacting to the illegal raiding of his private automobile workshop by agents of the state government acting on the instructions of the governor.
Ortom made it known that towing away some vehicles which do not belong to him at his private automobile workshop is the height of illegality on the part of the governor.
According to him, the state government is doing all these to persecute and humiliate him unjustly even when it had been approved by the Executive Council of the last administration that he and his deputy should leave with their official vehicles.
The statement reads:
The attention of the immediate past Governor of Benue State, Chief Samuel Ortom has been drawn to an incident today at a commercial workshop operated by London Lines Transport Ltd along Otukpo road in Makurdi where his vehicles among vehicles owned by other people undergoing repairs were towed away after members of the Assets Recovery Committee, acting on the directives of Governor Hyacinth Alia had forced their way into the workshop.
We are shocked beyond belief at the development which smacks of lawlessness. The media show that followed the incident indicated that the present administration in the state is out to torment, persecute and humiliate the former Governor using every unconventional means.
As we previously stated, the Benue State Executive Council during the last administration, gave approval that Governor Ortom, his Deputy and appointees of that administration should leave with their official vehicles. The invasion of a workshop today by members of the Assets Recovery Committee led by one Barrister Tom Uja who were accompanied by security operatives from Government House to tow away vehicles, many of which do not belong to the former Governor, was the height of illegality.
When the present Governor set up the Assets Recovery Committee and they made Chief Ortom a target, he approached the court and the matter is still in court.
His Excellency Ortom is not the first former Governor to vacate office with the official vehicles allocated to him. His predecessors, former judicial officers, legislators such as the Chief of Staff to the present Governor, Paul Biam, the Assets Recovery Committee Chairman, Hinga Biem and other members of the committee who served in government at different times all left with the official vehicles given to them.
Chief Ortom is a law abiding man who served the state as Governor and has not committed any offense deserving the persecution that the present administration has subjected him to. He will continue to respect the rule of law even in the face of the latest provocation.