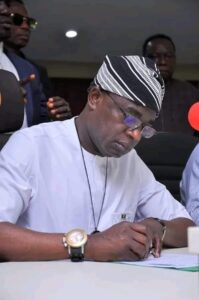 Nigerian Concord Newspaper
The governor of Benue state, Reverend Father Hyacinth Alia has been blamed for the incessant killings by Fulani herdsmen in the state.
Buhari Olanrewaju Ahmed, a journalist and media influencer who blamed the governor for the renewed killings in his state also described Nigeria as a country where life has no value.
In his opinion as published on Sahara Reporters website, Buhari condemned how terrorists do shoot innocent people at close range and set their houses ablaze in a bizarre manner.
According to him, it is disheartening to see that despite the fact that those running the Nigerian government took an oath to protect the people, they have failed to do so because they believe the people's lives have no value.
He also faulted law enforcement officers for always failing to carry out their duty of protecting lives of all citizens. "On Saturday, no fewer than 24 people were gruesomely murdered by the disguised terrorists called "unknown gunmen" who invaded the Zaki Akpunna and Diom communities of Mbaterem District in Ukum Local Government Area of Benue State" he wrote.
He pressed further that: "The horrific killings that happened in Benue and other parts of the country should be condemned by all sundry.
"The violence and destruction in Benue State are deeply disturbing and go against the principles of justice, empathy, and respect for human life. Obviously, such actions cause immense pain and suffering to innocent individuals and communities.
"However, since the government has woefully failed in its most important duty to protest us, it is our collective responsibility to condemn acts of violence and work towards creating a safer and just society. This involves addressing the root causes of such crimes, promoting education and awareness, and fostering a culture of empathy, understanding and respect for all citizens.
"We need to act fast as concerned citizens and hold the government and security agencies accountable and demand effective measures to tackle crime in our country. This can be done through peaceful advocacy, raising awareness, and actively participating in community initiatives aimed at promoting safety and security"
Buhari noted that Nigeria is facing serious security challenges in terms of criminal and terrorists activities, a situation that is compounded by the obvious lack of intervention from the government and security agencies.