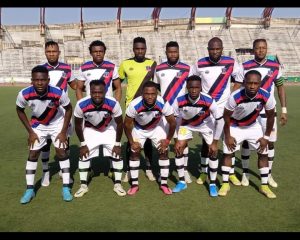 Nigerian Concord Newspaper
A late strike from Joseph Atule proved decisive over hard-fighting Enugu Rangers in a match day two fixture played at the new Jos Stadium, Plateau State.
Both teams entered into the encounter pointless having lost their opening matches at Port-Harcourt and Awka, respectively.
During the first half, players from both sides produced scary moments as the search for an opener intensified.
It was the visitors that got a clear-cut chance on goal in the 21st minute through Elijah Ani, but Lobi's goalkeeper, Emmanuel Daniel, was at his best.
Rangers shot stopper, Nana Bonso, was also busy as he stopped Atule's effort in the 42nd minute.
A few minutes later, Elijah Ani's powerful header was denied by the goalpost and Daniel caught the rebound in the 44th minute.
The first half ended without a goal.
Both teams returned for the second half to present a better entertaining game.
With both sides in search of goals, the coaches made significant changes that
produced more fireworks.
Lobi's Baba Ganaru replaced Mathias Samuel with Jerry Alex to add more firepower upfront.
Rangers equally responded as the gaffer, Abdul Maikaba, brought in Samuel Pam for Awaulu Naziru.
In the 60th minute, Reuben Bala, came close for the "Flying Antelopes", Lobi's defense marshaled by Orji Kalu and Moses Tsehuan, took perfect control of the situation.
Lobi's moment of glory came when Tsehuan launched an audacious move from the defence.
Tsehuan sent a terrific pass from behind that was flicked by Jerry Alex towards Atule, who wasted no time to smash it beyond a helpless Nana Bonso, in goal for Rangers, from outside the box, in the 84th minute.
Atule's effort, a goal of the season contender, brought more fight out of the visitors, who regrouped quickly.
In the 89th minute, Rangers' move provided a golden opportunity to level scores, but Bala missed again to the surprise of his bench.
In his post-match interview, Ganaru said: " I am satisfied with the character of my players on the pitch. I believe that more wins under the new team is possible".
Match winner, Atule was estactic for scoring his first Lobi Stars goal in the top flight.
"I am happy about the victory and assure the fans that more will come by the grace of God. The team will get better as the league progresses."
Rangers gaffer, Maikaba, expressed disappointment and promised that his side will improve.
"We missed chances today, but will bounce back."
Up next is Lobi Stars against Abia Warriors in Umuahia.