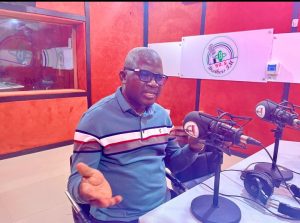 Nigerian Concord Newspaper
Special Adviser to Benue State Governor on Media and Publicity, Terver Akase says Benue people have made an unambiguous decision that the Peoples Democratic Party governorship candidate, Rt Hon Titus Uba is their preferred choice, ahead of the 2023 elections.
Akase stated that the massive endorsements Engr Uba has received as the PDP campaign moves round the state is a clear indication that the people have taken their stand to vote for the amiable Speaker of the Benue State House of Assembly as Governor, come March 11, 2023.
The Special Adviser who was a guest on Brother's FM political programme, 'The Political Conservation' stressed that Benue people would not be disappointed when Uba becomes their Governor, stating that the PDP guber candidate is a seasoned administrator who is also humble and is a team player.
He said Uba will make a good Governor, having garnered immense legislative experience as Speaker of the Benue State House of Assembly under whose leadership, the legislature has enjoyed peace and has passed numerous people-oriented bills.
Mr Akase also said it is heartwarming to see that the people of Benue North-West Senatorial District are unanimous that their votes will be for his principal, Governor Samuel Ortom, the same way the people of Benue North-East and those of Benue South are ready to return Senator Gabriel Suswam and Senator Abba Moro to the Senate, while also electing other PDP candidates in the state for the House of Representatives and State Assembly seats.
He stated that Governor Ortom has done well in all sectors of the economy as Governor and Uba would consolidate on those gains to execute his blueprint which is hinged on security and agriculture.
The Special Adviser pointed out that Benue people have apparently rejected the All Progressives Congress, APC, citing the large scale defections of APC members in Tarka Local Government Area and other parts of the state where the PDP campaign team has so far visited.
Akase thanked the people of the state for the huge support and gave assurance that they would not regret vesting their confidence and trust in the PDP.