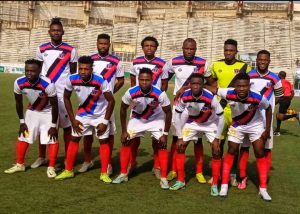 Nigerian Concord Newspaper
The Management of Lobi Stars FC, Makurdi has denied a report by Nigerian Concord Newspaper that the players threatened to boycott the ongoing Naija Super 8 Tournament holding in Lagos State.
This newspaper gathered and had reported yesterday that the players threatened to boycott the Lagos tournament over their unpaid salaries for about two months.
Nigerian Concord Newspaper also reported that some of the players who spoke with journalists in the camp yesterday morning said although they would play yesterday's semi final against Remo Stars, they won't show up for other matches if their salaries aren't paid before the end of this week.
Recall that Governor Alia had claimed to have regularly paid salaries to government workers but Lobi Stars FC and some other agencies were left out.
Although the player actually threatened to boycott the tournament, Lobi Stars Management reacted to the report in a press release issued by their Media office, saying that no such event took place in Lagos yesterday.
The statement reads:
The attention of the Management of Lobi Stars Football Club of Makurdi has been drawn to the above-named news story which has gone viral on social media platforms
The story which emanated from the Nigerian Concord, an online news medium is fake and the figment of the writer's imagination and should be disregarded by members of the public.
Lobi Stars camp is healthy as demonstrated in players' outings in the ongoing Naija Super 8 tournament where the club has recorded unprecedented results giving the fans hope for better days.
It is only those who are without the interest of the club at heart would wish uncertainties to hover around for their selfish and evil motives.
For the records, the new administration in the state led by Rev. Fr. Hyacinth Iormen Alia, is just one month and some days. One could imagine how on earth the writer would fabricate such falsehood to gain attention by saying players are owed 3 months.
Moreover, the boys played excellent and lost gallantly in today's game against Remo Stars due to missed chance, so how can the poster say the boys boycott the game?
While we encourage Lobi Stars supporters to continue their resilience in supporting the club, we call on them to always seek first-hand information from the leadership of the club to avoid being misled.