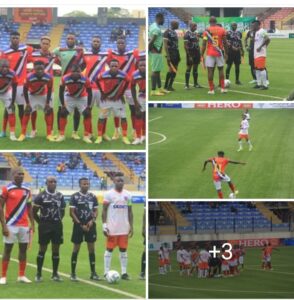 Nigerian Concord Newspaper
It was a total shame today in Lagos as players of Lobi Stars Football Club, Makurdi threatened not to show up for their Match against Remo Stars in the ongoing Naija Super 8 Tournament.
Lobi Stars faces Remo Stars at the Semi Finals of the ongoing Naija Super 8 Tournament.
Our reporter gathered that the players were lamenting this morning over their unpaid salaries for about two months by the current governor of their state, Reverend Father Hyacinth Alia.
The players based their anger on the fact that the governor who had claimed to have paid civil servants salaries for two months has refused to make them (Lobi Stars) a priority.
They bitterly complained that Alia isn't treating them fairly like it was under the immediate past governor who made the affair of Lobi Stars a top priority.
Some of the players who walked out of their camp in anger before they were begged to return back for the match had brief chats with some newsmen.
During the chats, they shows their bitterness over the poor way the governor is handling their matters most especially their unpaid salaries and welfare.
However, it took the intervention of officials who were able to explain that Lobi Stars salaries would be released in few days time before the players entered into their bus which later took them to the stadium where they are presently playing Remo Stars.
Although the players returned back for the ongoing semi final match against Remo Stars, they vowed not to show up for the next match if their salaries aren't paid before the end of this week.