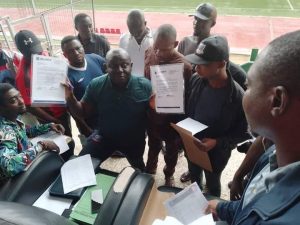 Nigerian Concord Newspaper
Lobi Stars Football Club of Makurdi on Tuesday embarked on staff verification exercise inorder to pay off genuine staff who were earlier laid off in April this year.
Fielding questions from news men at the Executive wing of Aper Aku stadium, Makurdi, Benue State, Secretary of the club, Terhemen Sarwuan said the appointment of former staff which was earlier dissolved and Announced by the VC/CEO, Dominic Iorfa in April 2022 still stands.
According to him, March outstanding Salary and a month Salary in Lieu will be paid to the affected Staff in the shortest possible time.
He added that, after the exercise, the club will recruit valid staff which will be issued identity cards which will serve as a means of identification for the club.
Recall that, all category of staff, including members of the Technical crew (except the Technical Adviser, Muhammad Baba Ganaru and players) were relieved of their appointments, as only those who wished to continue with the club were advised to reapply.
Many staff were seeing submitting their credentials for the exercise with those who wished to continue with the club also forwarding their application letters.