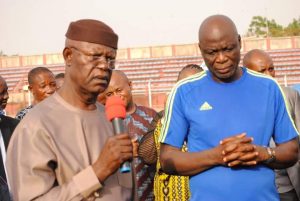 Nigerian Concord Newspaper
The cyberspace has been occupied with the issues surrounding Lobi Stars of Makurdi in the last few months with accusations that the current Vice Chairman/CEO of the club is owning salaries and also that he didn't manage the club as expected.
There was even a time that the trio of Paul Tion, Austin Tyowua and Gabriel Ogwuche sent text messages to an official of the LMC to report that Dominic Iorfa was engaging in match fixing which is a very serious crime in Footballing. However, the LMC official asked them to send it as a proper petition with their full details on it but till today, they haven't reverted back to him.
The LMC official who spoke with our investigators on Monday made it known that Iorfa's accusers are only chasing shadows as he himself is aware that all their actions are borne out of envy and jealousy over the CEO's achievements since he returned back to the club.
During our independent investigation, we spoke with Lobi Stars officials when Mr. Dominic Iorfa couldn't be reached on phone. We also spoke with his accusers as well as football stakeholders and lovers in Benue. Officials of the League Management Company were also contacted and the followings were found out:
** That Dominic Iorfa is a very stubborn man, though he loves to achieve positive results even at his own expense. He hardly takes advice once he sees reality and success in what he is doing. That isn't good enough. Some of his officials said he is a very good man, a performer but he should learn to take advice even though they aren't good for the club, he should still take them and follow his mind.
***That Dominic Iorfa was managing the club, Lobi Stars, for fourteen years, left and was reappointed by his Excellency, Governor Samuel Ortom after seven years owing to his track records.
** That when Iorfa came after seven years, he met the club in a very bad situation. The club was almost going into relegation despite the huge funds the state government had injected to get positive results, a staff of the club said. According to the staff, Iorfa used his experience to help the club escape relegation which was already gone before he came in.
** That Iorfa also took the team to the last eight of the NPFL whereas, the club was there for seven years before he (Iorfa) came in but they didn't even go pass the round of thirty two.
** That there are envies and jealousies from some people who think that Iorfa isn't the only Footballer or Football administrator in the state. According to some officials of Lobi Stars, Iorfa's accusers are angry that he isn't the only one but what they failed to do when he was not there for seven years, he started doing them since he came back and has been getting positive results.
** That Iorfa's accusers are also angry that the Club played 19 matches under him and got 30 points whereas the previous handlers of Lobi Stars got only 19 points from 19 matches.
**On salary issue, that Iorfa has paid salaries up to date in Lobi Stars and he isn't owing anyone anything. Those that went to protest that they are being owed by Iorfa were called to tender their appointment letters but up till now, only three of them had come to do so while others ran away. "How can you say someone is owing you when you are running away and have also failed to present your letters of appointment? another official of Lobi Stars said while speaking with our investigators.
One of Iorfa's accusers who went on the protest at the Benue People's House in Makurdi , though he later repented (he doesn't want to be mentioned for safety purpose) said to our investigators that: "They (Iorfa's accusers) aren't happy and they want to bring him down. They are very angry over two things: the escape from relegation and his ability to take the team to the round of Eight which is the quarter final of the National FA Cup. They aren't happy over this achievements and that is why all the stage managed protests took place"
He said that he was misled by Ogwuche and others, adding that: "They aren't happy that the governor has confidence in Iorfa over his skills in managing Lobi Stars for fourteen years and recalled him back. They aren't happy that he saved the state from a national embarrassment by helping the club to escape relegation. They were even falsely accusing the first lady of interfering in the management of the club just because the person that came before Iorfa's second coming was her younger brother. They are hell bent on tarnishing the image of the first lady but the public are now aware that the innocent woman has never interfered in the affairs of Lobi Stars since her husband became the governor of Benue state"
Meanwhile, we are still doing our findings and once we speak with Dominic Iorfa and oqwuche, we will expose more. Some things are still being hidden.
Aare Abiodun Oluwarotimi, De Oracular Oracle writes for Nigerian Concord Newspaper from his shrine