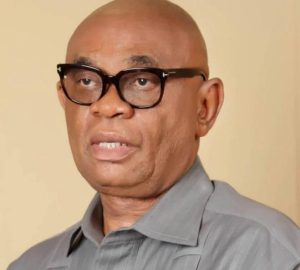 Nigerian Concord Newspaper
The Chief Justice of the Federal Capital Territory High Court last Wednesday decongested the Nigerian Correctional Service Center and freed among others, Hon. Chuma Nzeribe who was sentenced to 10 years imprisonment without option of fine in the matter of Federal Republic of Nigeria v. Hon. Chuma Nzeribe. Charge No FCT/HC/791/2020 which was filed by the EFCC. Presided by Court 14 Hon. Justice Yusuf Halilu. The convict earlier on filed an application for his bail pending appeal and the EFCC also responded that the FCT High Court does not have the jurisdiction to entertain any application by the Applicant since there's a pending Appeal before the Court of Appeal and all parties have filed their briefs of argument and issues were joined. While parties were waiting for a date to argue the application for the bail pending Appeal before the Court, the CJ went to the prison and released the Convict. It's pertinent to note that, the Convict was convicted since May 23rd, 2022 in absentia. Justice Yusuf made an order after the conviction for the Convict to appear before the Court for sentencing. After thorough surveillance, the Convict was subsequently arrested by the EFCC sometime this year and was sentenced to 10 years imprisonment without an option of fine among others. The Convict was sent to the Nigerian Correctional Service barely 3 Months back.
Justice Halilu Yusuf of the FCT High Court, Abuja, has convicted, Chuma Nzeribe, a former member of the House of Representatives for impersonation, possession of Federal Government documents and using same to fraudulently acquire land.
Nzeribe, who contested the governorship ticket of the All Progressives Grand Alliance (APGA), was convicted on Monday on four-count criminal charges brought against him by the federal government.
The convict could not be sentenced to prison, however, because of his absence in court on Monday when the judgment was delivered.
Justice Yusuf while delivering the judgment said he would reserve the sentence till the Economic and Financial Crimes Commission (EFCC) operatives and police arrest the convict and bring him before the court.
The Judge ordered that the land in Maitama acquired with the forged documents be taken over by the owner, Ishaya Madi, with immediate effect.
Nzeribe had shunned the court for the third time without any cogent reason.
EFCC had told the court that Nzeribe wrote the commission a Memorandum of Understanding MoU surrendering the land he fraudulently acquired to the real owner, Ishaya Madi.