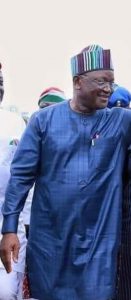 Nigerian Concord Newspaper
The governor of Benue state, Chief Samuel Ortom, has accused Fulani herdsmen of hiding under the guise of cattle grazing to actualize a plan they have to enslave Nigerians.
The governor spoke in an interview where he also exposed plans by Fulani herdsmen to take over the country.
According to Governor Ortom, the loss of more than 5,000 lives since 2011 in several attacks by Fulani herdsmen in the state necessitated the establishment of the Benue State Community Volunteers Guard to complement the efforts of security agencies.
He said: "The most notorious of all in the insecurity we are fighting is foreign Fulanis who have come to invade our land and take over and make it their own. They camouflage that they are herdsmen. This is not about herdsmen.
"If you see a Fulani man coming from Niger, from Mali, from Mauritania, from Libya with some few cows, they are meant to pretend as if they are here to graze or to rear cattle. It is not true the main agenda is to take over Nigeria and turn every person to slaves.
"I can tell you that from 2017 alone when we enacted the prohibition of open grazing and enacted provisions for ranching, to date, more than 120 security personnel have been killed more than 5000 people from 2011 till date have been killed.
"The actions and inaction of the Federal Government shows us clearly that whether they are complacent or complicit or they just want to turn a blind eye to this, because I can't see how these men will come and kill people, take over the land and the Federal Government defends them."
Although he was not certain that the establishment of Community Volunteers Guard would put an end to the lingering challenge of insecurity in Benue State, Ortom noted that the outfit would go a long way in tackling killings and destruction of property at the grassroot level.
His words: "What we are trying to do may not necessarily put an end to insecurity, but it will minimize the level of insecurity that we have in our land, because the conventional security of the state have done their best.
"However, I tell you as at today, the security men are grossly inadequate, they are ill equipped, they are ill funded and the challenge is there. So we decided that people should put this up and endorse a law by Senator George Akume, when he was governor in the year 2000. We decided to revive it and that is what we have done.
"But, this is not a security outfit of its own, it is meant to support the local security in various localities, but also complement the conventional security apparatus of the state at least so that we can reduce it (insecurity) to its barest minimum."