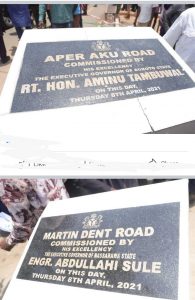 Nigerian Concord Newspaper
One of the major things the administration of Governor Samuel Ortom seems to be noted for is the opening of nooks and crannies of the state through what could best be called its revolution for road infrastructure in all the three senatorial districts of Benue state.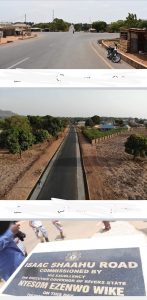 The road building revolution by the Ortom administration kicked off with the fixing of most of the roads started by the past administration of Senator Gabriel Suswam (2007-2015) such as the 47km Zaki-Biam – Afia – Gbeji road, 61km Taraku – Naka – Agagbe road, 54.61km Otukpo – Utonkon- Igumale road, 52km Oju- Obussa – Utonkon road, 10km Oshigbudu – Ogbaji road, among others, after which he proceeded to opening up new roads including 47km Daudu – Gbajimba road, 21km Abuku – Ortese – Jingir – Tyogbenda Wombo Road, 21km Otukpo Icho – Odudaje – Aondona road, 40.39km Origbo – Imande – Akpur – Gbajimba road, 52.27km Makurdi – Yogbo – Udei – Udei branch road, 55km Ikov – Utange – Mbagwaza – Mbagba – Lessel – Mhiitom road, 43km Obagaji – Okokolo – Abian – Agagbe road, 45.14km Tor Donga – Zaki Biam – Tsewuaze – Tiza – Shila road among other numerous roads.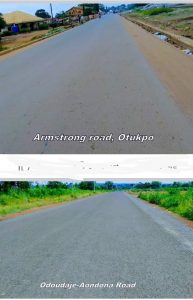 In continuation of Gov Ortom's administration road infrastructure revolution, the governor has also executed urban renewal projects in the major towns in Benue State such as Makurdi, Gboko, Otukpo and Katsina-Ala to ensure adequate welfare of the people by ensuring that he execute projects and programmes that would enliven their lives.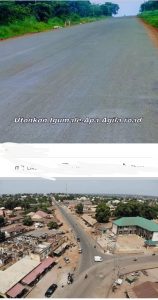 Terwase Agbadu – Yakyo – Apir road, Customary court – George Akume road, Atoato Girgi street, Aper Aku road Gboko, Gordon Esa Street North Bank, Isaac Shaahu road, Armstrong road in Otukpo, Commercial road in Otukpo, Martin Dent road in Gboko among others are some of the numerous urban road projects executed by the Governor Samuel Ortom – led administration while many are still ongoing.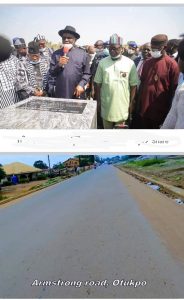 Hear Governor Samuel Ortom while talking about his achievements on infrastructure and rural development recently:
In infrastructure, this administration has executed numerous road projects in the three senatorial zones of the state. Only recently, prominent Nigerians, among them Governors of Enugu, Nasarawa, Sokoto and Rivers States accompanied me to Gboko to commission township roads and the state-of-the-art new Palace of the Tor Tiv. Among the roads commissioned were Aper Aku road, Professor Martin Dent road and Chief Isaac Shaahu road. We had earlier reconstructed Ahmadu Bello Way, JS Tarka Way and Captain Down's Road in Gboko with drainages done for proper flow of water during rainfall. We equally constructed the Tse-Poor to Apir road and Igbor-Ikpa-Mbatyerev- Wannune road.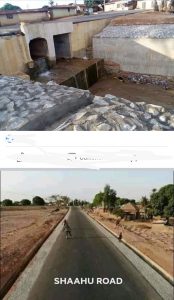 Within Makurdi the state capital, we have constructed several new roads and opened up layouts. These include the Customary Court road now known as Senator Gabriel Suswam road, Mobile Barracks-Welfare Quarters road, Terwase Agbadu-Yaikyo road and Federal High Court road North Bank Makurdi. We have also constructed and commissioned Imande-Akpu-Origbo-Gbajimba road, while work is progressing on Taraku – Naka road. Work is also progressing on Daudu-Gbajimba road as well as Abuku-Jingir-Tyogbenda-Wombo road.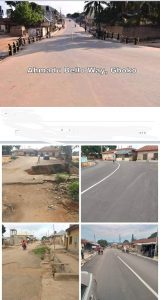 In Benue North Senatorial District, we commissioned the 47-kilometer Zaki-Biam-Gbeji-Afia road among numerous other projects in the area. The construction of Ge-Ikyobo-Agbeede-Anshagha road is also ongoing.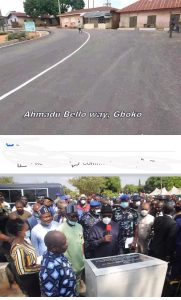 We commissioned different township roads in Otukpo and other parts of Benue South Senatorial District including Armstrong Avenue, Commercial road and Och'Idoma Way, while work is progressing on Abounu Way to VIP Guest House Otukpo. You are aware that we have awarded contract for the construction of a befitting Palace in Otukpo for the Och'Idoma and work has already commenced on the project.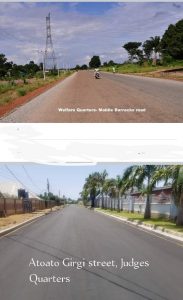 Still in Benue South, we have constructed the Agatu-Oshigbudu-Obagaji road which before now made the movement of the people of that part of the state quite challenging. I recently inspected the progress of work on Otukpo-Icho-Odudaje-Aondona road and I am optimistic that the project and that of Igumale-Agila road will soon be completed.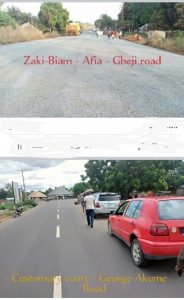 Other infrastructure we have provided in the last two years are the completion of a new office complex for the Deputy Governor, renovation of Aper Aku Guest House and the main Administrative Block here at Benue Peoples House.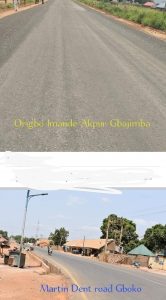 Also within this period, we have constructed 17 flats of two bedrooms in both Phase One and Two of Owner-Occupier Housing Estates through the office of the Head of Service. The Construction of a Community Market has also commenced at Phase One of the Estate. To ensure a conducive working environment for civil servants, we have provided water at the State Secretariat for the first time since it was commissioned in 1989. In the area of workers training, I approved the training of one thousand staff by the Administrative Staff College of Nigeria, ASCON. It is also the first time that such a large number of staff will be trained within a specified period. The exercise will no doubt enhance service delivery in the state.
RURAL DEVELOPMENT
Our administration has executed numerous rural access roads. Some of the road projects recently constructed are Ortese-Mkar- Ashibi-Ortese-Uger, Agbeede-Mhambe-Adyorough-Korinya-Branch Atser road, Gbajimba-Tse-Ortom-Upev to the Nasarawa Border. We have also completed over sixty electricity projects while several others are ongoing.
In line with our commitment to touching the lives of those in need, this administration has put smiles on the faces of orphans at the Mama Abayol Orphanage Home Makurdi. Within the period under review, the facility has been turned around with both new infrastructure and total rehabilitation of existing structures. The orphanage now has a clinic, laundry, library, common room, hostels, well-furnished dining, a playground, a computer room and a standby generator.
To ensure improved security at the State Industrial Layout in Makurdi, we have refurbished the Police Outpost and the Benue State Fire Service at the Industrial Layout Sub-station Makurdi. It is worthy of note that the layout also serves as the North Central Industrial Park. Both facilities have been completed and are now offering services to the public.
With the achievements of Governor Samuel Ortom in less than seven years years despite crisis in the global economy, especially road constructions, construction of bridges in the major towns of Benue state and rural areas for the benefit of the people deserve commendation.