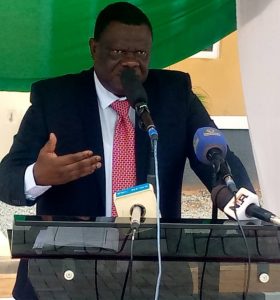 Nigerian Concord Newspaper
Chief Michael Aondoakaa, SAN, the former Attorney General of the Federation and Minister of Justice has harped on the need for the Tertiary Education Trust Fund (TETFund) to construct roads at the Joseph Sawuan Tarkaa University, Makurdi (JOSTUM) to ease staff and student transportation and reduce the cost of vehicle maintenance due to bad roads.
The former Chief Law officer of Nigeria who is the Chairman of Fund Raising of the university stated this during the commissioning of projects at the university by President Muhammad Buhari, who was represented by Chairman of the House Committee on Tertiary Education and Services, Hon. Aminu Goro.
Aondoakaa stated that he represented former President Umaru Yar'adua of blessed memory in commissioning projects at JOSTUM, but the university had never received as many interventions as it has under the administration of President Buhari.
He also reiterated the determination of the Federal Government, through the pragmatic and dynamic leadership of the Executive Secretary of TETFund, Arc. Sonny Ochono, to improve tertiary education in the country. According to him, the institution is now unparalleled in terms of training human resources and acquiring cutting-edge scientific and research activities.
The university, according to Aondoakaa, has engaged in a number of initiatives that have given it an edge over others in certain fields and sued for more commitment to enable the university play a crucial role in realizing Benue state's rightful position as the Food Basket of the Nation.
The Executive Governor of Benue State, Samuel Ortom was present in person through his Commissioner for Education Hon. Sawuan Tarnongo, the Vice Chancellor of JOSTUM Prof Anande Kimbir, Hon Richard Gbande, Hon Awuese Torhee, and the pioneering Rector of Federal Polytechnic, Wannune, Engr Terlumun Utsev were among the other notable dignitaries.
The event was the official commissioning of TETFUND year 2018/2019, 2020/2021 merged annual intervention projects such as: Construction and furnishing of academic building for College of Agronomy, construction of female hostel, construction of male hostel and construction of entrepreneurship development centre.