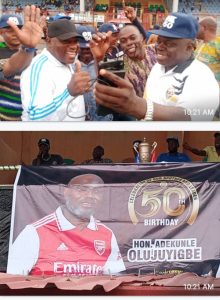 Nigerian Concord Newspaper
Today is the D -day. It climaxes a week -long activities to celebrate Hon. Adekunle Olujuyigbe's golden birthday
The elaborate events were packaged & financed by his political followers & beneficiaries of his philanthropy. The group of these young, promising & appreciative acolytes is code- named "Ok Patriots home & abroad".
Now, they thought it wise to organise these events, which were initially planned to be a 'surprise' present, but the cat was let out of the bag during the live streaming of the football finals at Akure Stadium on Monday!
I was co-opted as an adviser to the group, as a fellow Aquinarian ( A name reserved for an alumnus of prestigious Aquinas College Akure) & as a close friend of the distinguished Celebrant.
So far, the programmes had involved novelty matches, donations to the orphanage, public lecture & interactive sessions. Later today, we will now make merry in a mini- party to draw the curtain.
While I admire the level of loyalty of "Ok patriots" to give their Leader befitting birthday bashes, there are moral lessons embedded in this, aside rare & open display of gratitude to a benefactor, that can inspire other leaders to do good always.
Unknown to many, aside his numerous constitutional obligations, without razzmatazz associated with political gerrymandering, Hon. Kunle at Ondo State House of Assembly as member, representing Akure State Constituency 2, empowered some youths who wanted to seek legitimate sojourn & academic pursuits in foreign lands & kingdoms. He facilitated their ambitions with the instrumentality of his offices. He provided all the needful that eventually guaranteed their safe journeys to 'obodo oyinbo' .
Others, who were interested in merchandise or in artisanship were given sizable amounts of funds to set up businesses which are now flourishing . After all these struggling years, the boys have now grown to become men of success & wisdom. Today, they are giving back in unique ways & manners.
Moral Lesson 1:
No good deeds go unnoticed and unrewarded if not by man but by God.
Moral lesion 2:
Never underestimate anybody in life.
Moral Lesson 3:
Nobody is useless. We can be useful if we receive the needed help at the right time.
Kunle, as you celebrate your 50th natal day, I pray for your continual growth in strength and grace. The good Lord will grant you peace of mind, sound health, breakthroughs and perpetual prosperity.
You're welcome to the 5th floor, you shall not fail nor falter.
Congrats!
Apostle Kehinde Omoniyi writes from Akure.