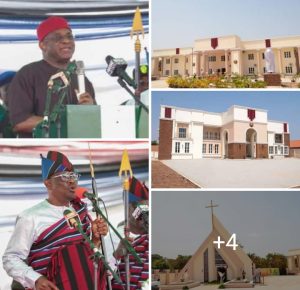 Nigerian Concord Newspaper
YOU'VE MADE IDOMA NATION PROUD, says Senator Mark, former Senate president
"Your Excellency, mine is to thank you immensely on behalf of the Idoma nation. We can't thank you enough. You made not just the traditional ruler of the Idoma Kingdom proud, but the entire Idoma nation.
We owe you a whole gratitude. Today we are gathered here because the Governor has built an ultra modern palace for our traditional ruler. All of us like the Och'Idoma rightly pointed out, we are very proud to invite our friends to come and just visit the Och'Idoma. So on behalf of the Idoma Kingdom I would like to thank you, your Excellency.
We thank the Executive Governor of Rivers State (Nyesom Wike) who has stood by you and who has shown that he is a true friend. We pray that the friendship between you two will remain and benefit the people of Benue and Rivers State."
ORTOM IS A MAN THAT BELIEVES IN THE TRUTH…Gov Wike, Rivers state governor
"Let me on behalf of the Government and the good people of Rivers State bring felicitations to the Idoma Kingdom and the entire people of Benue State. Let me thank my brother Governor Ortom for what he has done. Last year, I was in Benue State when you were commissioning the Palace of the Tor Tiv.
At that commissioning, I was giving a Chieftaincy title of 'Igyuve i Tiv.' Today you are commissioning the palace of the Och'Idoma and today again I have been conferred with a Chieftaincy title. Therefore, Let me thank the Och'Idoma for seeing me competent to be conferred a Chieftaincy title.
You have said clearly that what Governor Ortom has done is what is called equity, fairness and justice. That is why my relationship with Ortom will continue to grow because he is a man who believes in the truth. He is a man who believes that the right thing must be done. Governor Ortom has done well in identifying with the traditional institution. It is not easy not just identifying with them but giving them a place to where they will stay to preside over the affairs of their various kingdoms.
I believe that God in his infinite mercies will make Ortom to finish well and the people of Idoma Kingdom, the people of Tiv kingdom and the entire people of Benue State will continue to honour you."