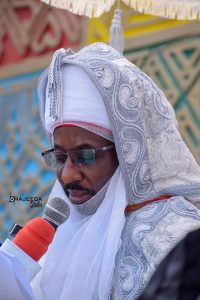 Nigerian Concord Newspaper
Concerned elders from Benue State, drawn from the 14 local government areas of Tiv land known as G-14 and the nine local government areas of Zone C called G-9 have thrown their weight behind Governor Samuel Ortom in the face of the attacks on his person by a group of 52 Fulani elites following the recent bombing in Akwanaja, Doma, Nasarawa State where some pastoralists were alleged to have been killed.
The elders made their position known through their leaders, Dr Laha Dzever for G-14 and Sir Moses Jima for G-9 during a world press conference on Friday, 10th February, 2023 in Makurdi.
They expressed surprise at the hasty conclusion by the deposed Emir of Kano, Sanusi Lamido and other Fulani leaders in a petition to President Muhammadu Buhari, that Governor Ortom was responsible for the bombing in Akwanaja.
The elders reminded the deposed Emir of Kano and his group that the use of drones, jets and aerial bombardment is the exclusive right of the military which is not controlled by the Benue State Government or any of its functionaries.
The G-14 and G-9 described the statistics mentioned in the write-up by the Fulani leaders as skewed in favour of pastoralists and disclosed that as at August 2021, Nigeria had recorded eight thousand three hundred and forty-three (8343) casualties through herders' attacks on farmers with Benue State alone accounting for two thousand five hundred and thirty-nine (2539) deaths, representing 33% of the total in three hundred and three (303) attacks by herdsmen.
They further disclosed that current figures in Benue State have exceeded six 6000 deaths, with 18 local government areas in the state suffering attacks by Fulani herdsmen, sending the indigenes to IDP Camps and other safer locations.
They condemned the deposed Emir Sanusi and his cohorts for their silence on the casualties recorded in Benue State and the country through herders' attacks.
The Concerned Benue elders further condemned the persistent and deliberate campaign of calumny against the person of Governor Ortom by Fulani groups such as Miyetti Allah Kautal Hore, Miyetti Allah Cattle Breeders Association of Nigeria(MACABAN) and the Fulani Nationality Movement (FUNAM), warning that the Governor holds the mandate of his people and any attack on him will be treated as an attack on Benue people.
The elders also drew the attention of security agencies to the renewed attacks on the state by the Fulani herdsmen, particularly in Gwer West Local Government Area and called on security operatives to act swiftly to forestall further attacks.
The concerned elders concluded by reaffirming their stand with Governor Samuel Ortom, to enable him continue to defend Benue people.