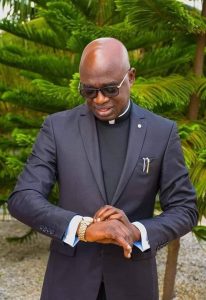 Nigerian Concord Newspaper
Fresh crisis has hit the Benue state chapter of the APC as the party's media handlers have accused the disputed governorship candidate of the party, Father Hyacinth Alia and the state chairman, Austin Agada of threatening their lives.
The Benue APC media handlers who raised the alarm under the umbrella of the BENUE APC MEDIA TEAM (BAMET) said that a lot has been done by Alia and Agada to threaten their lives since after the faulty governorship primary election.
They also accused the duo of neglecting them since after the primary election and also trying to replace them with another media team.
The press statement by the Benue APC media handlers reads in part:
1 WE ARE BONAFIDE/CARD CARRYING MEMBERS OF THE BENUE STATE ALL PROGRESSIVES CONGRESS (APC) AND WE CONSTITUTE THE PARTY'S MAIN MEDIA TEAM THAT SERVES THE PURPOSE OF ALL APC CANDIDATES IN THE STATE.
2. WE HAVE COME OUT TO USE THIS MEDIUM TO COMMUNICATE OUR GRIEVANCES BROUGHT ABOUT BY THE ABOVE NAMED BODIES IN OUR PARTY.
3. WE LOVE OUR PARTY, THE APC AND THAT IS WHY WE HAVE SUPPORTED IT OVER THE YEARS THROUGH THICK AND THIN AND WE ARE DOING EVERYTHING GOOD AND POSSIBLE FOR OUR PARTY TO WIN THE 2023 GENERAL ELECTIONS, FOR THAT IS THE JOY OF ANY TRUE PARTY MAN AND WOMAN. WE WILL CONTINUE SUPPORTING THE APC AND CANVASSING FOR VOTES FOR OUR CANDIDATES AT ALL LEVELS AND BY THE GRACE OF GOD, WE WILL COME OUT VICTORIOUS IN THE 2023 ELECTIONS TOO.
4. THIS OUTING HAS BECOME NECESSARY AND IMPORTANT BECAUSE OF THE ILL TREATMENTS, NEGLECT, THREATS AND EVIDENT EVIL PLANS AGAINST OUR GROUP WHICH IS TARGETED AT BOTH OUR TEAM'S LEADERSHIP AND OUR MEMBERS.
5. BEFORE AND AFTER THE PRIMARIES OF OUR GREAT PARTY, THE AUTHENTIC APC STATE MEDIA GROUP (BAMET) HAS BEEN TOTALLY RELEGATED. SEVERAL ATTEMPTS TO HAVE AN INTERFACE WITH THE STATE APC CHAIRMAN, COMRADE AUSTIN AGADA AND THE GOVERNORSHIP CANDIDATE OF OUR PARTY, REV. FR. HYACINTH IORMEM ALIA, PHD, HAS PROVED IMPOSSIBLE WITH ALL THE EFFORTS PUT IN PLACE BY THE LEADERSHIP OF OUR TEAM.
6. WE HAVE BEEN THE SUSTAINABLE VOICE OF OUR GREAT PARTY IN BENUE STATE SINCE THE PARTY ALLEGEDLY ISSUED THAT FAMOUS 'RED CARD" TO GOV. ORTOM IN 2018. AND WITH MINIMAL BUT ENCOURAGING SUPPORT FROM THE LEADER OF OUR PARTY, SEN. DR. GEORGE AKUME AND A FEW STAKEHOLDERS OF OUR PARTY, WE HAVE CONTINUED THE WALK THROUGH THE THICKEST WILDERNESS WITH NOTHING TO OUR NAMES TO GET TO WHERE WE ARE TODAY.
7. CURRENT HAPPENINGS IN THE PARTY HAVE SHOWN THAT BAMET IS CONSIDERED 'GAME OVER' BY SOME FOLKS WHO SEE THE TEAM AS A THREAT. THERE ARE EVEN EVIDENCES SUGGESTING A NEW STATE MEDIA GROUP MAY HAVE EMANATED FROM THOSE WHO FEEL THEIR CLOSENESS TO OUR GREAT PARTY'S GOVERNORSHIP CANDIDATE HAS GIVEN THEM AN UNFAIR ADVANTAGE OVER US. WE WANT THIS CORRECTED BECAUSE PERSONAL MEDIA AIDES SHOULD NOT BE ALLOWED TO QUENCH THE FLAMES OF A BODY THAT HAS ALWAYS BEEN THERE SPEAKING FOR THE APC AND ALL HER CANDIDATES IN THE STATE SINCE 2018.
8. DESERVING MEMBERS OF OUR TEAM WHO BY PARTY HIERARCHY SHOULD LEAD CERTAIN COMMITTEES HAVE OVER TIME BEING SIDELINED FOR REASONS BEST KNOWN TO THOSE WHO DEEM IT FIT. AND NOW, THEY HAVE BEEN LEFT OUT OF THE CPC FOR THE VISIT OF THE PRESIDENTIAL CANDIDATE. WE CONDEMN THIS ACT IN VERY STRONG TERMS AS ITS ALIEN TO THE NORMS OF OUR GREAT PARTY, THE APC.
9. AFTER EXHAUSTING ALL MEANS OF INTERNAL CONFLICT RESOLUTIONS AND ALL ATTEMPTS TO DIALOGUE WITH THE PARTY STRATA BEING THWARTED BY SOME ELEMENTS AROUND THE LEADERSHIP OF THE PARTY, WE HAVE RESORTED TO ISSUING THIS COMMUNIQUE AND MAKE DEMANDS THUS;
I. THAT THE GOVERNORSHIP CANDIDATE OF OUR GREAT PARTY, REV. FR. HYACINTH IORMEM ALIA, PHD, SHOULD AS A MATTER OF URGENCY, EXTEND AN INVITATION TO MEET WITH THE BENUE APC MEDIA TEAM (BAMET) TO FORMALLY FAMILIARIZE WITH THE TEAM ON SEVERAL FRONTS.
II. THAT THE STATE CHAIRMAN OF OUR GREAT PARTY, COMRADE AUSTIN AGADA, SHOULD ALSO AS A MATTER OF URGENCY, EXTEND AN INVITATION TO MEET WITH THE BENUE APC MEDIA TEAM (BAMET) TO FORMALLY FAMILIARIZE WITH THE TEAM ON SEVERAL FRONTS.
III. THAT THE EARLIER 3-DAY (PLANNED BUT NEVER FUNDED) PROPOSED DIGITAL COMMUNICATION EMPOWERMENT TRAINING IN 2020 FOR BENUE APC MEDIA TEAM THAT WAS ORGANIZED BY THE BENUE APC MEDIA TEAM (BAMET) IN CONJUNCTION WITH THE APC STATE SECRETARIAT BE REKINDLED AND HELD IN THE FIRST OR SECOND WEEK OF FEBRUARY, 2023 TO BRAINSTORM ON NEW WAYS TO UTILIZE THE MEDIA TO THE ADVANTAGE OF THE APC IN THE FORTHCOMING ELECTIONS IN BENUE STATE.
IV. THAT THE MEMBERS OF THIS GROUP IN THE PARTY HIERARCHY BE ALLOWED THEIR RIGHTFUL PLACES BY LEADING ANY FRONT IN THE PARTY THAT HAS TO DO WITH THEIR JOB DESCRIPTIONS AND SHOULD FOR NO REASON, BE LEFT OUT AS CAN BE SEEN ON THE LATEST LIST BEEN CIRCULATED RECENTLY OF THOSE CHOSEN TO BE MEMBERS OF THE APC PRESIDENTIAL CAMPAIGN COUNCIL IN BENUE STATE.
V. THAT THERE SHOULD BE NO ATTEMPT TO DELAY OR WAVE THIS DEMANDS AWAY BECAUSE AS PARTY MEN AND WOMEN, WE HAVE PAID OUR DUES AND ARE DESERVING OF THIS RESPECT.
VI. THANK YOU ALL AND GOD BLESS OUR GREAT PARTY, THE ALL PROGRESSIVES CONGRESS (APC) AT ALL LEVELS.
DEPONENTS TO THIS COMMUNIQUE INCLUDE ALL MEMBERS OF THE TEAM NAMELY:
TERUNGWA NUNDE
HASTINGS AONDONA IORLIAM UHIA
BERNARD UKPE
TERHIDE JIME
NYUMA T. EPHRAIM
PHILIP SALEMKAAN
GABRIEL TERUNGWA SHANGE
MYOM ELVIS HUNGURGA
BEATRICE AMUA
SOONEN YOOSU
MELVIN TERTSEA
CHEREN TERFA JEREMIAH
AKAWE TERNGU MOSES
ADAH OCHOJI
SESUGH GER
AKAA TERNA JAMES
ORKUME TWAR
AKAWE F. FRANCIS
ANKOR TERWASE KENNETH
TERSEER E. IORBEE
MANASSEH AKAA
ODEH KENNETH ODEH
AKAA STEPHEN TERTSEGHA
VICTOR HEMBAOR
CALEB ABAH
ATOROUGH EMMANUEL
TERFA ATULE
IORTIM CHARLES AONDONGU
IORWUESE FRANKLYN SHANKODI
ELIJAH TULE
WAKU A. ISAAC
AORAAN FESTUS
AKUJI EMMANUEL
SOUGH JOHN ANKYOOVUDE
AKUJI SHIAONDO
GEORGE ANYEBE
AKAAHAN (BERNARD) JACINTHA
JAKES KULUGH
AGBA VERSHIMA
NYITER JOHN PUNK
IDUH GODSWILL OTSEPA
AJIKWA CHRISTOPHER
CHILUUN, S. A.
TSETIM JUDE TERHILE
JOSEPH ANTYU
TERNA TOR
MARTINEZ IBN TYOTSUMEH
TAR PHILIP TERTSEA