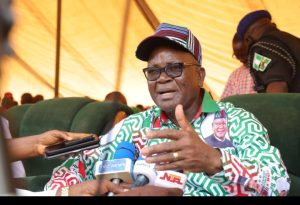 Nigerian Concord Newspaper
For the umpteenth time, the Benue State Governor, Samuel Ortom has accused the Federal Government of being complicit in issues of terrorism in the country
He insisted the Federal Government was protecting killer Fulani herdsmen who have continued to perpetrate unprovoked killings in Benue State.
Governor Ortom in an emotion laden voice stated this Sunday, January 22nd, 2023 in a chat with journalists shortly after he visited victims of Fulani herdsmen attacks on Abagena IDPs camp who are receiving treatment at the Benue State University Teaching Hospital, Makurdi.
Governor Ortom who was visibly saddened by what he saw said, "This is my pain, since 2015, I have cried out loud that the Federal Government is complicit to the issues of terrorism raising Fulanis in Niger from Futa Jalon (Senegal), Cameroon, Mauritania and Libya and other parts of the world so that they will come to Nigeria and take it and make it their country.
"One thing that pains me is that these people have not hidden their intentions and they are known. The Federal Government is protecting them. I have called for the arrest of the leadership of Miyetti Allah Kautal Hore several times. I have written to the Presidency. I have written to DSS, I have written to the Police, and yet they are adamant. It is not that these people are not known, they are known," Ortom insisted.
According to the Governor, "the day that the Federal Government wants these acts of terrorism against our people to end, that will be it. But for now they are complicit. They are working with them to push for the take-over of this country and make this country a Fulani nation."
The Governor insisted that "I am quoting the Fulani National Movement, I am quoting Miyetti Allah Kautal Hore who are responsible for these recruitment and killings that are going on. No one has attempted to even call these people and question them and do the needful. If we are a country that believes in the rule of law, this will not continue."
He expressed disappointment over the continued invasion and killings of Benue citizens by foreign Fulani terrorists, saying, "We are fed up with this kind of lawlessness that is going on."
"I have restrained myself from becoming a lawless governor or a lawless leader, because this will lead to anarchy and when we get to that level that is war and nobody can pray for war. Those who have experienced it before, including security agencies, none of them will ask for this kind of situation," he added.
Some of the victims included 14 year old Emberga Ukpoor whose hand was cut-off, Terna Ikyaan shot in the abdomen, Kwaghve Terkimbi, 14 with his ear chopped-off, Agber Ikyume, Regina Gbashaor, Eunice Iyua were inflicted with various degrees of injuries while an aged woman, Esther Num was shot at and the bullet penetrated her waist.
Chief Medical Director of the Benue State University Teaching Hospital, Prof Terrumun Swende who conducted the Governor round the wards where nine of the survivors are receiving treatment briefed the Governor on the condition of each victim.
After the attack a few days ago at the Abagena IDPs camp on the outskirts of Makurdi, nine persons were confirmed dead with one having his head cut-off and taken away by the bandits.