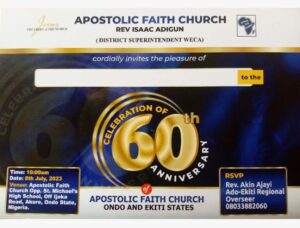 The Apostolic Faith Church, Ondo State District will celebrate her 60 years of existence on July 8
The programme will be held at the Church Auditorium, at opposite St. Michael High School, Jide Mac junction Ijoka road, Akure by 10.00 am.
According to the Chairman Planning Committee of the Anniversary Celebration, Rev. Oba Fatoba, the Church is celebrating the 60th anniversary for the success and the impact on the peoples lives in the state
Acording to him, there is every cause to thank God for his manifold love and care despite all the threats of the devil over the years, many people had been saved, sanctified and baptised with the Power of Holy Spirit, also many had been healed of diverse diseases.
THE SPREAD OF THE GOSPEL-The Church, which started with 7 congregants in 1963, have spread to nooks and crannies of Ondo and Ekiti States. It is a Church with an open door and burning message.
Therefore, the Chairman expressed deep joy and thanks to God who has enabled the ministry of Apostolic Faith to "swim and swim through the ocean of life with a glorious stories, but not a sorry story."