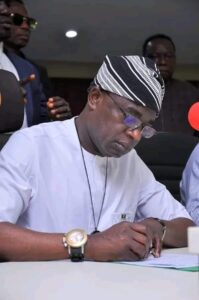 Nigerian Concord Newspaper
The economy of Benue state may suffer a setback under the new administration as the governor of the state, Reverend Father Hyacinth Alia reportedly purchased a 2023 bullet proof Lexus jeep worth of N500 million.
According to reports, the N500 million keep was purchased by one Alhaji in Abuja because the governor said he needs comfort and safety.
Recall that the governor had asked that all the bank accounts belonging to the state should be frozen up last week but observers are asking where he is getting money for all his expensive trips across the country since he assumed duties.
With the purchase of the jeep, observers believe that there are some bank accounts of the state government that have been secretly unfrozen by the governor so he can access funds for his personal needs.