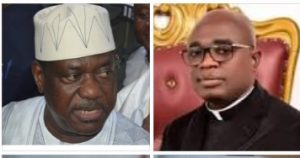 Nigerian Concord Newspaper
This is not a good time for the embattled governor of Benue State, Father Hyacinth Alia as his estranged political godfather who is also the Secretary to the Government of the Federation, Senator George Akume turned down his request to submit three commissioner nominees.
This explains why Governor Alia is yet to send the list of his commissioner nominees to the State House of Assembly even though a phony letter was reportedly sent to Speaker Aondona Dajoh last week.
During the House business late last week, the Speaker informed his colleagues that the governor had sent them a letter concerning the members of his cabinet.
Dajoh who read the letter quickly added that he would read out the names of Alia's commissioner nominees at latter date.
But sources close to the speaker told Nigerian Concord Newspaper that there was no name attached to the letter, stressing that Alia only sent that to beat the 60 days deadline he had to sent his commissioner nominees to the House of Assembly.
Sources close to the governor too told our reporter that the list of his commissioner nominees isn't ready yet as he is facing a serious internal crisis in his party, APC over Akume's refusal to nominate any person as a commissioner.
Report has it that Alia had approached Akume, asking him to send three commissioner nominees for his Cabinet but the SGF bluntly rejected the offer.
It was gathered that the SGF refused to nominate any commissioner for Alia as a result of how the governor bypassed him while appointing his Chief of Staff and the Secretary to the State Government.
Akume is also angry that Alia worked against his candidate for Speakership, Becky Orpin, and ensured the emergence of Aondona Dajoh.
Akume was said to have nominated a former governorship candidate of the defunct Action Congress of Nigeria, Prof. Stephen Torkuma Ugbah as the SSG but the governor turned the nomination down and appointed another person who was relatively unknown in Benue State politics.
Also, Akume was said to have advised Alia not to appoint Paul Biam as his Chief of Staff with reasons that the former Benue State lawmaker isn't in his good book but the governor defied the SGF's advice.
Akume is also angry over the manner his sister-in-law, Mimi Oribibi was sacked as the chairman of the Benue Inland Revenue Service by Governor Hyacinth Alia.
However, sources close to Senator Akume disclosed that the SGF gave a condition that his three nominees would be for the Ministries of Finance, Works and Lands if he must nominate them but the governor turned it down.