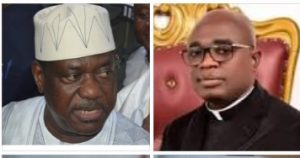 Nigerian Concord Newspaper
The governor of Benue, Father Hyacinth Alia may have bitten more than he can chew as he has reportedly drawn a battle line with his estranged political godfather, Senator George Akume.
Recall that Alia began his battle with the Secretary to the Government of the Federation when he threw away an arrangement by him and the All Progressive Congress in Benue to make Becky Orpin the Speaker of the State House of Assembly.
Alia however shunned the party's arrangement and worked for the emergence of Aondona Dajoh.
Apart from that, the governor sacked all the office holders that are loyal to Akume immediately he assumed duties as the chief executive officer of the state.
Also, the governor appointed Paul Biam as his Chief of Staff as against the advice from Senator George Akume.
The latest is the deliberate absence of the governor at the special thanksgiving service organised in honour of the SGF in Gboko yesterday.
Even though the governor was not out of the state, he didn't attend the event in honour of his benefactor.
Sources at the Benue State Government House told Nigerian Concord Newspaper that Alia is doing everything to cut the influence of the SGF on his administration.
The sources made it known that Alia has sworn to reduce Akume's influence in Benue State because he made President Bola Tinubu to reject his ministerial nominee, Emmanuel Jime.