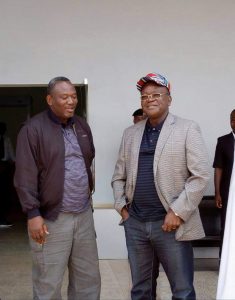 Nigerian Concord Newspaper
There is no doubt that the major candidates for the contest of Benue NorthWest Senatorial Zone are the governor of Benue state, Chief Samuel Ortom, and a dismissed special adviser on local government and chieftaincy affairs, Hon. Zam Titus.
Dismissed? Yes. Zam was dismissed at the middle of 2018 over allegations of financial recklessness, stealing of local government staff salaries and insurbodination to his employer, the governor. There are petitions against him at the EFCC and ICPC.
Let's go to the main business. Who does the cap fit between Governor Samuel Ortom and Hon. Titus Zam?
Governor Samuel Ortom has had so many achievements to point at as governor of the state since he broke away from Senator George Akume, Minister of special duties and intergovernmental affairs who was a big obstacle that didn't allow him perform as he wished to.
Immediately Ortom returned back to the People's Democratic Party, things changed for better. He performed and was even adjudged as one of the very best governors in the country. The positive results are what we are seeing today.
There are lots of road projects, rural development and electrification, successes in the areas of investment, agriculture, health, education, and workers/pensioners welfare.
Above all, Governor Ortom took security to a different stage. He took it upon himself to ensure that Benue is liberated from the shackles of killers from the Fulani side of the country.
The governor didn't do this without stepping on toes and without paying some prices. For saying the truth about the security situation of the country, Governor Ortom was barred from seeing President Muhammadu Buhari. All his applications to get loans to pay off salaries arrears were blocked at the insistence of Senator George Akume.
He was attacked and meant to be killed by terrorists several times. He was blackmailed severally by the media handlers in the Presidency.
The Judiciary was manipulated to garnish the bank accounts belonging to the Benue government many times. The state was prevented from getting some funds that were given to some states only because Governor Ortom stood against Benue's oppressors.
For Zam, he has two achievements which Benue people have started making reference to. One his tendency of "Chopping public funds and then clean up his mouth"
Zam has said it on many occasions that as a public officer, one should "chop and clean mouth" at the expense of the electorates.
The other is making some local government workers to lose their jobs by tagging them "ghost workers" while he was heading the Bureau for local government and chieftaincy affairs.
Thanks to Governor Samuel Ortom who God used to unravel the truth and he has reabsorbed them back into the service.
Between Ortom and Zam, who does the Zone b cap fit?
I am Aare Abiodun, De Oracular Oracle that eats jollof rice in the shrine