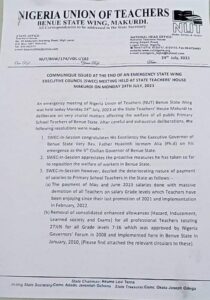 Nigerian Concord Newspaper
The Nigeria Union of Teachers (NUT) Benue State Wing has given the State Government 48 hours to pay all the arrears of consolidated enhanced allowances removed from their
May and June 2023 salaries among other demands or face a state-wide protest and eventual strike.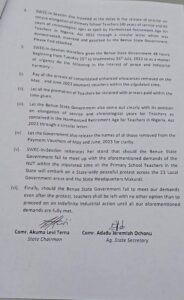 The NUT in a communique after its emergency State Wing Executive Council meeting in Makurdi today 24th July, signed by its State Chairman, Comrade Terna Akuma and the State Acting Secretary, Comrade Jeremiah Ochonu, also urged the Fr Hyacinth Alia administration to restore all the promotions of teachers which it reversed and direct the payment of their arrears within the stipulated time.
The Union decried the nature of payment of May and June 2023 salaries to primary school teachers in the state which it said was carried out with massive demotion of all teachers on salary grade levels which the they have been enjoying since their last promotion of 2021 and the implementation in February 2022.
The Benue wing of NUT also rejected the removal of consolidated enhanced allowances for all professional teachers totaling 27% % for all grade levels 7-16 which was approved by Nigeria Governors' Forum In 2008 and implemented in Benue State in
January, 2010.
The Union similarly frowned at "the delay in the release of the circular on tenure elongation of primary school teachers (40 years of service and 65 years of chronological age) as spelt by Harmonized Retirement Age for
Teachers in Nigeria, Act 2022 through a circular letter which was
domesticated, assented and gazetted by the Benue State Government".
It tasked the Benue State Government to release the names of all those removed from the Payment Vouchers of May and June, 2023 for clarity.
The teachers vowed to embark on a peaceful protest in all the 23 local government areas of the state should the Benue State Government fail to meet their demands within the given time, adding that if the government fails to meet their demands even after the protest, teachers across the state will be left with no other option than to proceed on an indefinite industrial action until all the demands are fully met.