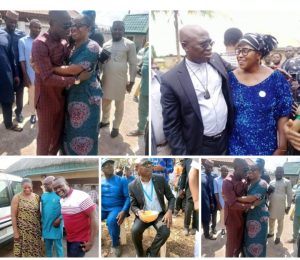 Nigerian Concord Newspaper
The Forum of Concerned Benue Citizens has offered to pay for the DNA tests for some people who have claimed to be biological sons and daughters of the embattled APC governorship candidate in the state, Reverend Father Hyacinth Alia.
This was contained in a press statement issued by Bemgba Iortyom, Benue state PDP's spokesperson. He issued the statement on behalf of the forum.
Reports have it that Alia, a Catholic priest has children with some women in Benue state as a result his secret sexual relationships with them before he was suspended from the vineyard.
The statement reads:
It has come to our notice that one Mkor Aondona Donatus who is a spokesperson for the campaign effort of the disputed 2023 Governorship Candidate of the All Progressives Congress (APC) in the state, Hon. Hyacinth Alia, yesterday raised alarm on the existence of some children who are being alleged to be the biological offsprings of the APC Guber Candidate.
Hon. Alia, a priest who has been suspended by the church, is under oath to live a celibate life as such must not sire biological children.
However, through the alarm raised by Mkor Aondona yesterday, it is now public knowledge that there exists the possibility of the suspended Catholic priest having biological children of his own, a fact which if proved will amount to grave violation of his sworn oath of celibacy.
But also contained in the alarm raised by the Alia campaign spokesperson was the call for the arrest of those alleged children of the suspended priest wherever they may be sighted. Mkor however did not state the reason for the arrest of Alia's children.
Out of concern for the safety of those children, given the storm now brewing over their existence, we the forum of concerned citizens offer to sponsor DNA testing to establish their paternity.
This, we offer to do in line with the known culture of our brotherliness and humanism. The gesture is also in the belief that it will be more in line with due process that those children be subjected to the scientific best practices of DNA testing rather than police arrest since they committed no crime by being born into this world by anyone.
Bemgba Iortyom,
For Forum of Concerned Citizens.