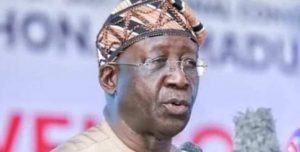 Nigerian Concord Newspaper
National chairman of the People's Democratic Party, Senator Iyorchia Ayu is currently under heat for failing to speak on Fulani killings and flooding in Benue state during his speech in Gboko over the weekend.
Aloysius Gbakaan, Coordinator, of Benue Coalition for Democracy who spoke in a press release issued to journalists in Makurdi described Ayu's recent outing in Gboko as incomplete since the areas of Fulani killings and flooding were not included in his speech.
The statement reads:
Benue Coalition for Democracy, BCD read with utter disappointment, the statement credited to the National Chairman of Peoples Democratic Party, PDP, Senator Iyorchia Ayu while he was speaking in Gboko on Friday and yesterday being Saturday 29th October, 2022. As one of the biggest beneficiaries of key positions at the federal level from Benue State, Ayu has never returned the love and blessings he receives from the state.
Parts of Benue State have come under renewed attacks by Fulani herdsmen in recent weeks. Gbeji in Ukum local government area recorded one of the heaviest casualties in the last two weeks with 36 corpses recovered and more people still missing while others are in the hospital. Benue is one of the states facing the biggest floods with thousands of people rendered homeless by the surging water.
As a man who is from Benue State and as the National Chairman of a political party which is seeking to take over the reins of power at the centre, many Nigerians expected Ayu to visit Gbeji and sympathize with families of those killed in the attack while condemning the dastardly act. He was also expected to visit the areas most affected by flooding and offer some words of consolation. It would not have been too much to send relief materials to the victims. In fact, a man who is not self-centred would have invited his presidential candidate Atiku Abubakar to accompany him to visit Gbeji and the flood hit areas.
Ayu did none of these things and instead mounted the political podium in Gboko to attack Governor Samuel Ortom and other PDP stakeholders in Benue State who have called his bluff. He sounded like a military dictator who has absolute power under his control. But we are not surprised. Ayu is a Machiavellian. He belongs to the ilk of those who are sly, deceptive, distrusting, and manipulative. He is known for destroying those who help him to ascend to positions of authority. For him, allowing the people who pushed him to climb the ladder to remain relevant will be detrimental to his sustained stay at the top.
Recall that it was the late Rev Father Moses Adasu as Governor who brought Iyorchia Ayu, an unknown university lecturer to political limelight by denying the late Valentine Iortim Unongo the senate slot to favour Ayu who went on to become Senate President. But how did Ayu reward Adasu? When Akume became Governor of Benue State in 1999, Ayu influenced him to hate Adasu with venom such that the late priest was denied financial support from Akume's government to enable him get medical attention until he died in 2005 with only N5,000 in his account. Adasu was prevented from seeing Akume each time he attempted to see the Governor on the orders of Ayu who was like the proprietor of Government House at that time.
Ayu was also behind the frosty relationship between Governor Akume and Chief Barnabas Gemade who made him Governor. Soon after Akume became Governor, Ayu moved in and raised sentiments of Jemgbagh brotherhood and shoved the likes of Gemade aside and took charge of all decisions. It was the Machiavellian at work yet again! He destroyed every Tiv man who had the potential to give him competition. All the ministerial slots given to Benue during Obasanjo's tenure, Ayu put his name as the only nominee. Three times, he was the minister representing Benue State. When he was done with Akume, he also destroyed and abandoned the man who now became a drunk. Ayu would later be heard calling Akume a useless man.
Flip to Suswam's era as Governor. When Ayu did all he could to penetrate and control Suswam but he failed, he met Akume and initiated the plot to replace Suswam in 2011. It was his idea that Prof Steve Ugbah who is from the same Logo local government area like Suswam be invited from his university teaching job in America to come to run for Governor. When the push to remove Suswam failed, Ayu quickly left Akume again and joined Suswam. Such a snake-like life!
Today, Iyorchia Ayu is back to his familiar terrain. His current mission is to destroy Governor Samuel Ortom who recently revived his political career and made him PDP National Chairman. The first thing Ayu did was to blackmail the Governor before Atiku and other Fulani leaders that Ortom is the one profiling all Fulanis as killers. Do not expect Ayu to sympathize with victims of herdsmen attacks in Benue State. The scenario is playing to his advantage. He wants to push Ortom far from the centre and scheme of things in PDP so that he will be the chief decision maker, if Atiku becomes President. That's the modus operandi of a Machiavellian. The golden rule is to destroy those who brought him to power so that he becomes one and only Prince in the palace! This is a man who praised Governor Ortom to high heavens in December 2021 and January 2022 when the Governor singlehandedly convinced other PDP Governors and stakeholders to accept Ayu even when some people had their reservations about him. Today, Ayu has made Ortom his number one enemy! This life!
We challenge Ayu to point at any Benue son or daughter whom he has mentored and supported to grow either politically or economically. His only known style is to cash in on the fortunes of those who were groomed by other leaders and try to take the glory. He is a failed and selfish politician.
Ayu ought to know that Benue people are well aware of his mundane ways. He has insulted us for too long. Yesterday in Gboko, he sounded like a despot who owns PDP boasting that he could stop anyone from contesting elections. But under the PDP constitution, the National Chairman does not have such absolute powers. Ayu should remember Uche Sekondus! Where is Sekondus today?
Ayu and Atiku must stop living in denial, thinking that only people of a certain tribe, religion or region would decide their fate come 2023 as they need the support of all Nigerians.
The BCD demands an immediate apology from Ayu for playing politics when our people are being killed. He and Atiku have spat on the graves of scores of Benue people hacked-down by satanic herders who are on the prowl to actualize the Fulani agenda.
We want Nigerians who are desirous of enjoying peace after the tenure of the largely incompetent President Buhari to beware of Iyorchia Ayu and Atiku Abubakar's utterances now that they are not near the seat of power. They have no sympathy or good feelings for the people. Atiku will be worse than Buhari.
We as Benue voters find the insult from Ayu and Atiku unacceptable and we will show our anger during next year's election.