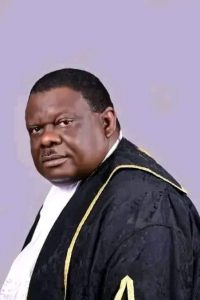 Nigerian Concord Newspaper
There is a report making the round that Chief Michael Aondoakaa, SAN, who is challenging the All Progressives Congress, APC's Governorship Primary in Benue state on the grounds that it was not carried out in accordance with all applicable rules and guidelines, has conceded to Rev. Fr. Hyacinth Alia, the purported winner of the disputed election, at his residence.
As they say, talk is cheap. It is incomprehensible that someone or a group of people would wake up to spread lies about our principal over a case that is already in court and would be decided on the merits of the arguments submitted.
Without further ado, we would like to say that Chief Aondoakaa only arrived from the UK this morning, August 18, 2022, at 7.50am, by Qatar Airways Number QR1433. How he contacted the suspended Catholic Priest for the alleged reason could only be fictitious or a request that we are powerless to fulfill until we receive a court decision.
Furthermore, as the matter is now in court, we do not wish to make any additional comments.
The sharp minds of the throngs of supporters of our principal in the state and elsewhere might be compelled to accept the said disgraceful news and draw the conclusion as it is a carefully thought out plot against our principal. However, we would like to clarify that our principal cannot make any decisions regarding his governorship ambition without contacting his supporters and friends.
For a group or individuals acting outside the established authority to speak on behalf of our principal on any political subject to become desperate is obnoxious, repulsive, and reeks to high heaven.
It is pertinent to note that Aondoakaa has no personal issues with Fr Alia but will never be blackmailed to accept the Governorship primaries that was illegally conducted.
Dam Obed,
Media Director,
Michael Kaase Aondoakaa Campaign Organization.