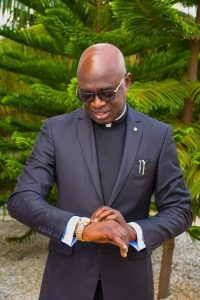 Nigerian Concord Newspaper
For campaigning with religious which is against the Section 92 of the Electoral Laws of Nigeria, Benue Reformation Movement, BRM, has called on the Independent National Electoral Commission, INEC, to disqualified the embattled governorship candidate of the All Progressive Congress in Benue state, Reverend Father Alia, from the 2023 general elections.
This message was contained in a letter written to the electoral umpire on Friday, August 26, 2022 by the the pressure group. The letter was signed by her national Secretary, Dr. Joshua Wombo PhD.
Recall that Father Alia has always been using religion to campaign especially inside churches across Benue state.
In most of his campaigns inside churches, the embattled APC governorship candidate said he had healing powers like that of Jesus Christ to heal Benue state if elected as governor in 2023.
Also, recall that INEC national commissioner in charge of Information and voters education, Mr. Festus Okoye, was quoted inside newspapers reports this morning that any candidate or politician caught campaigning inside a church or mosque will be disqualified and jailed.
According to Okoye, INEC won't tolerate any candidate or political party that continues to use religion to campaign ahead of the 2023 general elections.
In her letter to INEC, a copy which was obtained by Nigerian Concord Newspaper, Benue Reformation Movement said Alia had breached the Section 92 of the Nigerian Electoral Acts of year 2022.
The group accused Alia of using religion and a healing power which he claims to possess to deceive Benue voters in some campaigns which he had unlawfully done in some places of worship in the state.
The letter pressed further that Alia is an offender who had breached the Acts and should be prevented from participating in the election so it can serve as deterrent to others.
According to the group, a criminal case will be instituted against the Benue APC governorship candidate by its legal team next week.
Speaking with our reporter in a very brief telephone chat over the letter, INEC national commissioner in charge of Information and Voters Education, Mr. Festus Okoye, said he has not been briefed about the letter or its contents but promised that the electoral body will investigate the allegation and instruct its legal department to act accordingly once the letter is received