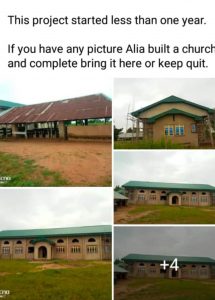 Nigerian Concord Newspaper
The Governorship candidate of Labour Party for the 2023 general in Benue state, Rt. Hon. Herman Iorwase Hembe has taken a swipe at the Governorship Candidate of the All Progressives Congress (APC) in Benue state, Hon. Hyacinth Iormem Alia over the abysmal performances of his 32 years priesthood as a Catholic Priest.
Hon. Hembe who doubles as a three term member of of House of Representatives for Jerchira Federal Constituency said Hon. Alia's poor performance as a Priest was a disgrace to the m Christian community especially the Catholic Church.
This was contained in a statement by Hembe through his Media Aide, Hon. Kulekule Igbawua Thedeaus who said the 32 years priesthood of Hon. Alia is a waste so far as welfare of congregation is concerned hence according to him, his Boss, Hon. Hembe has shown commitment and care to the Christian community much more than Alia, a supposed Shepherd of God's sheep.
Igbawua took on Fr. Alia on his official Facebook page saying;
"Hembe who is not a priest is building a befitting church for people to sit inside and worship God, while Hon. Alia who is 32 years in priesthood never completed any church project."
He further lambasted the APC Governorship candidate that looking at what his Boss has done for Christians in his constituency, the public can attest to the fact the Hon. Alia is a disgrace to Christians community, asking that, how do we commit a great state like Benue into the hands of a failed priest such as Fr Alia who was given an opportunity to lead his sheep as priest for 32 years and he messed things up?
Hembe's spoke man boasted that the gigantic Church built by his Boss is just a one year project, "This project started less than one year."
According to Igbawua, "It is on record that Alia until his suspension, ranked as the Priest with the highest number of healing mass patronizers, yet also ranked as the worst non performing priest despite the huge sums of monies he generated from those healing masses.
He further dared any of Hon. Alia's supporters to prove him wrong by bringing out any photo of a Church project completed by the priest turned politician who was suspended by his superiors in the Catholic Church for acts deemed as contumacious.
"If you have any picture Alia built a church and complete bring it here or keep quit." Igbawua boasted.
He described Hembe as the most qualified and competent candidate for Benue number one seat come 2023.