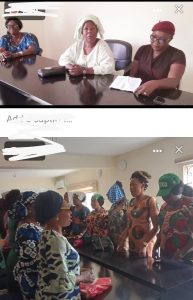 By Aderonke Adesida, Toyosi Kolade and Toyin Omole, Akure
The Committee on Market women mobilization for Atiku/Okowa under the umbrella of PDP Akure Group 2023/24 today began mobilization for the presidential candidate of the PDP, Alhaji Abubakar Atiku.
Speaking at a meeting held at the campaign office of Atiku/Okowa this morning, chairman of that Sub-committee, Hon. Mrs Kokumo Oredipe urged members to see reasons why they should work as a team to ensure that the party succeeds in 2023.
According to Oredipe, the services of members must be collective and voluntary at this moment while they expect their rewards after the victory of the party in 2023.
Also speaking in their separate speeches, Honourables Kikelomo Oladunmoye, Eunice Johnson, Adeuti Asekere, Remi Mohmoh and Funmilola Madojutimi advised members to work tirelessly to deliver Akure South for Atiku Abubakar.
They also urged members to begin House to House campaigns for Atiku apart from visiting market men and women.
They said it is their joy to ensure that Eyitayo Jegede becomes governor in 2025.