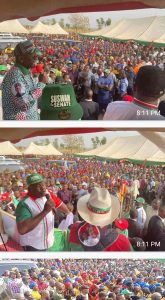 Nigerian Concord Newspaper
The minister of special duties and intergovernmental affairs, Senator George Akume might have lost his grip over his Tarka local government as thousands of his kinsmen defected from the All Progressive Congress to the People's Democratic Party today.
The massive defection took place in Tarka local government area of Benue state when the campaign train of the ruling People's Democratic Party visited to Campaign for Governor Samuel Ortom who is the senatorial candidate for Benue Northwest and Engineer Titus Uba, the governorship candidate.
Akume is currently Buhari's Minister of Special Duties and Inter-governmental Affairs and the PDP were in his hometown of Wannune on the umbrella party's ongoing round of local government campaign tour for this year's general elections.
PDP had received the decampees numbering in thousands, whose leader, Hon. Dennis Tser aka Baba Denny, speaking on behalf of the others expressed their tiredness with being on an unrewarding side of the political divide where only the leader, Akume, and his inner family circle get to benefit and feed fat while every other person continues to suffer.
In their separate speeches, they pointed to recent events where Akume made his wife Regina Akume House of Reps candidate of the APC for Gboko/Tarka Fed. Constituency after a younger distant relation of the Minister had been favoured by majority of APC faithful in the area for the ticket.
They also pointed to when Akume appointed himself and his wife Regina among the 3 national delegates from Tarka to the APC Presidential Convention in Abuja late last year as evidence of impunity and insensitivity which has over time characterized the former governor's style of leadership.
One of the decampees said that APC in Benue should best be described as "Akume's Personal Company" which he said he and fellow decampees had decided to leave for Akume and his family, and seek a better life in PDP.
The decampees openly burnt their APC membership cards as well as hundreds of brooms which symbolize the party, as they were received into the PDP and promised equal opportunities as the old members.
Highlights of the event included the presentation of Engr. Titus Tyoapine Uba to the people as the PDP Governorship Candidate for the 2023, who promised to consolidate on and build on the legacy of the Ortom administration when voted into power.