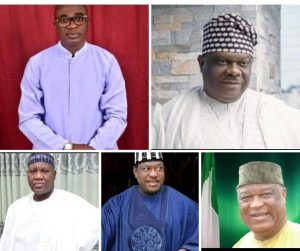 ….Police dispatches security personnel to aggrieved aspirants' houses
By Jerry Terwase, Makurdi
Facts have emerged on how the minister for special duties and intergovernmental affairs, Senator George Akume, ordered the youth leader of APC in Benue state, Mr Tertindi Sado Adom, to arrange for the burning down of residences of Chief Michael Kaase Aondoakaa SAN, Chief Barnabas Gemade and Professor Terhemba Shija if they fail to withdraw their cases against the disputed governorship candidate of the party, Reverend Father Hyacinth Alia, from court within seven days.
The Benue APC youth leader who assembled twenty three other youth leaders across the state at a meeting of APC North Central zonal officials led by zonal vice Chairman, Hon. Miazu Bawa Rijau with Benue APC stakeholders at Precious Events Center in Makurdi yesterday was also ordered to burn down private companies belonging to Aondoakaa, Gemade and Shija.
Adom claimed at the meeting that he was speaking for Senator George Akume who isn't comfortable with the ongoing court cases against Alia.
He further said that Akume who he claimed has the party in his pocket has arranged a standby squad to deal with whoever that further goes against his wish on Alia's candidacy.
According to a reliable source at the meeting where Father Hyacinth Alia, Simon Sango and the factional state chairman of the party, Austin Agada, hugged and cheered Adom, it was said that moves had begun to force Gemade and others to withdraw their cases against the embattled governorship candidate within the next seven days.
The source said that it was reported at the meeting that Akume who wants APC to win the next governorship election in Benue state at all cost will not allow the cases instituted by the aggrieved APC aspirants to ruin the party's chance.
Recall that Aondoakaa, Gemade, Shija, Herman Hembe went to court to seek for Justice immediately Father Alia was imposed on the party as the governorship candidate through an unpopular and illegal direct primary that wasn't approved by the national headquarters of the party.
Also recall that the aggrieved aspirants had raised their points before the Appeal panel set up by the party, and the panel recommended that the "yahoo yahoo" primary be nullified and fresh ones conducted.
Also recall that INEC also issued a report that primaries didn't take place in seventeen local government areas while there were no voters registers in six local government areas.
However, it was reportedly discussed at the meeting that Young Alhaji's house was razed down for going against what the party in Benue state wants, and more will happen if Gemade and the remaining aggrieved aspirants fail to take their cases away from the court.
It will be recalled that some weeks ago, unknown arsonists were reported to have burnt down the palatial residence an APC chieftain in Otukpo, Alhaji Abubakar Usman, aka Young Alhaji, a known critic of Senator George Akume.
Nigerian Concord Newspaper gathered that the three aggrieved aspirants have decided to write a joint petition in which they will report a case of threat to their lives to President Muhammadu Buhari, the DSS and IGP.
It was also gathered that the police authorities had last night dispatched security personnel to the houses of Mike Aondoakaa and others.
A chieftain of the Benue APC who didn't want to be mentioned for safety purpose condemned the development, saying that Emmanuel Jime followed Ortom up to supreme court in 2015 but the governor never sent thugs to kill him or burn his house.
He also added that Dorothy Mato had at a time taken Herman Hembe,a sitting House of Representatives member at that time to court but the federal lawmaker never ordered any attack on her. "So why is the case of Mike, Gemade and Shija different that serious threats have been made on their lives" he lamented.
Meanwhile,this Newspaper gathered that the DSS agents who covered the event have accordingly filed their reports about the security implications of APC leader's ultimatum to the three illustrious Benue politicians.