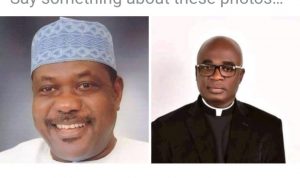 Nigerian Concord Newspaper
Special Adviser to Governor Samuel Ortom of Benue state on Media and Publicity, Mr Terver Akase, says the disputed governorship candidate of the All Progressive Congress, Reverend Father Hyacinth Alia, has nothing to offer the state.
Akase was reacting to Campaign promjses which Alia made while campaigning Mbatiav, Gboko yesterday.
According to Akase, the disputed governorship candidate is very empty and all his promises are fake.
The statement reads:
We read a news report credited to the disputed governorship candidate of All Progressives Congress, APC in Benue State, Hyacinth Alia while campaigning in Mbatiav, Gboko yesterday, where he reeled out his usual empty and boring verbiage on how he will spend Benue's money, if elected.
It is shocking that a man who is aspiring to lead the state has no other message for the electorate beyond disclosing his plans to embark on a spending spree, if given the opportunity to govern. He is apparently bereft of ideas and knowledge of what governance entails. Leadership is not song composition and pushing narratives sterile in substance.
The suspended priest has never stated how he will improve the revenue sources of the state and create wealth for the people. He only blabbers about spending, spending and more spending of resources. Governance is beyond spending funds. It is more about galvanizing resources to make the state prosperous.
The banality of it all is that Alia is obsessed with the Ortom administration. He misses no opportunity to launch trite and ridiculous attacks on Governor Samuel Ortom, claiming that nothing has been done since 2015 to impact on the lives of the people. He however has no known record of achievement anywhere in his 33 years as a priest, when younger priests have massively developed the churches where they serve.
He calls himself a "messiah" at campaign grounds and jumps in vain ecstasy to every sound of music and song, even when the songs turn to insult his fellow party men and women.
The disputed candidate who is now a song composer for the APC Muslim-Muslim ticket has never condemned the unprovoked herdsmen attacks on Benue communities or sympathized with families of the victims, a position that has expectedly fueled speculations that he is being sponsored by enemies of Benue people to deprive them of their ancestral lands.
The belligerent APC candidate ought to face his legion of litigations arising from the yahoo yahoo primaries conducted by the party which produced him. That is a hurdle he must cross before considering himself a contestant in the 2023 elections.
Terver Akase
Special Adviser, Media & Publicity
October 10, 2022.