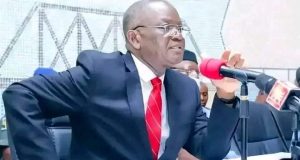 Nigerian Concord Newspaper
If the president has refused to give consent,as required by the Fire Arms Act, for States' Vigilante outfits to bear requisite fire arms,while turning a blind eye to that of his home state Katsina,bearing Fire Arms, three options can be taken by the governors, particularly my home State Gov. Samuel Ortom,wherein the State, Terrorists slaughtered scores last week in my own Council area,Logo.
Option one is to go to court to challenge the refusal and make a case for an order of Mandamus,compelling the president to do his work, by giving such consent. Be prepared to go all the way to the Supreme Court.
Option two: Since Security is on the con-current list of the 1999 constitution,sponsor an executive Bill in the State House Of Assembly to enact a law mandating the state govt to equip the already established Vigilante group in the state " with necessary equipments,tools,machinery and any other things that will enhance the performance of the Vigilante group in furtherance of the fulfilment of its set objectives as contained in section so and so of its establishment law.
Option three: The House of Assembly can sit in plenary pursuant to its rules and the majority leader will move a motion of urgent State importance cataloging all the incidents of Terrorists attacks on Benue state,listing the number of the dead,maimed,properties destroyed and number of Refugees and the Refugees camps and declare a state of emergency on the state,directing the governor to arm the state Vigilante force with specific and listed Arms and Ammunition within a specific period,usually six months at first instance.
These are all constitutional ways of dealing with this issue. Instead of complaining in the press for the refusal of the president to give consent. This refusal should have been anticipated and these 3 options, primed to be activated upon such refusal.
Barr. Reubens Acka, a lawyer writes from Makurdi