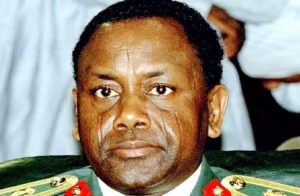 Nigerian Concord Newspaper
Nigeria and the United States of America (USA) on Tuesday signed an agreement for the repatriation of $23,439,724 recovered funds said to have been looted by late General Sani Abacha.
At the agreement signing ceremony held at the Federal Ministry of Justice (FMOJ), the Attorney General of the Federation (AGF) and Minister of Justice, Abubakar Malami signed for Nigeria while the US Ambassador to Nigeria, Mary Beth Leonard signed for her country.
Malami said the fund, which is referred to as "the Mecosta/Sani Mohammed assets (otherwise known as Abacha Five) would be deployed to the ongoing construction of the Lagos-Ibadan express way, Abuja-Kano road and the second Niger bridge.
He said Nigeria was hopeful that other pending cases such as "Bayelsa, Galactica, Blue Trust and Seaborne assets" would be resolved in Nigeria's favour.