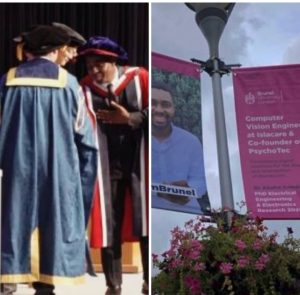 Nigerian Concord Newspaper
Dr. Aondoakaa Solomon Akuha Ph.D Electrical Engineering & Electronics Research who is the son former Attorney General and Minister of Justice, Chief Michael Kaase Aondoakaa SAN, has again been honored by the University of Brunel London in the United Kingdom.
Recall that since the emergence of Barack Obama as the first black American President of the United States of America, African legends and talents in the diaspora are constantly in the limelight.
Dr. Akuha Aondoakaa is the subject of several celebrations by the famous University of Brunel In the United Kingdom.
Having won several awards in the course of his studies at the University, Dr. Akuha Aondoakaa has been again found worthy to be honored by the University.
This time, the University has placed his picture at it's prestigious entrance as the:
COMPUTER VISION ENGINEER AT LSLACARE & CO-FOUNDER OF PSYCHO TEC. (Developing digital solutions for the diagnosis and intervention of depression.)