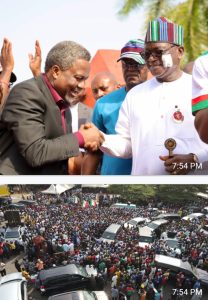 Nigerian Concord Newspaper
Benue State Governor, Samuel Ortom has expressed delight that the forces of darkness which had planned to scuttle the Governorship ambition of Engr. Titus Uba have been stopped by God.
A visibly elated Governor Ortom bared his mind Tuesday, January 3rd, 2023 while addressing the mammoth crowd that turned up to welcome the PDP governorship candidate to the State after his medical vacation.
According to Governor Ortom, "the return of our governorship candidate was a clear sign that the forces of darkness over PDP, over Engr Uba and over Benue have failed. All principalities of powers, spiritual wickedness in high places, rulers of the darkness of this world have been crushed by our Lord Jesus Christ". 
He went on, "Nobody knew that Titus Uba would be on his feet the day he was leaving Makurdi to Abuja and then Germany. The Doctors can treat but it is God that heals," he stressed. 
Governor Ortom said the people of the state "appreciate God almighty for his wonders and we are grateful for the fact that our candidate who could not walk and could not speak well, today he is walking without support."
The Governor assured that no amount of distraction would make the PDP lose next year's election while also expressing optimism that Engineer Uba would take from where he stopped in providing quality service to the people.
Governorship candidate of the PDP, Engr.  Uba in his brief remarks amidst shouts of excitement from party supporters, said he was back and set to continue from where he stopped before his medical vacation.
Uba who was flanked by his wife, Pauline, his deputy, Sir John Ngbede and other party leaders thanked Governor Ortom and the people of the State for supporting him in prayers which has made his recovery quick and total.
He said his healing was "Evidence of answered prayers from God. All the people you see here were on their knees praying to God for my quick recovery and today I stand before you. I want every one of you to join me to thank the Governor who is a father to everyone".
Uba also thanked his running mate, Sir John Ngbede for standing in the gap in his absence and the assembly members for passing all bills before them in record time while he was away.
The PDP governorship candidate had earlier arrived Makurdi and was received at the Agan Toll Gate along Makurdi-Abuja highway by the State PDP Campaign Management Committee led by Dr. Cletus Tyokyaa as well as thousands of PDP supporters who came in across the state.
Engr. Uba was later driven round Makurdi metropolis in a motorcade and taken to Benue People's House where he was received by Governor Ortom and members of the State executive and security council.
The State Acting Chairman of the PDP, Hon. Isaac Mffo and the Director, State PDP Campaign Management Team, Dr. Tyokyaa in their separate remarks expressed delight that Uba was back.
They both assured that the party leadership would work together to deliver the state for the party.
Others who spoke included the Benue Deputy Governor Engineer Benson Abounu, Senator Orker Jev and Chief David Amo all attributed the healing of Uba to God and pointed out that with his return,  nothing will stand in the way of PDP sweeping the polls.