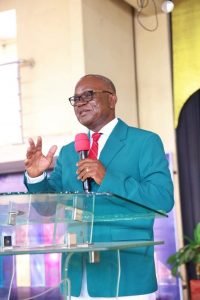 Nigerian Concord Newspaper
Youths from Buruku, Gboko and Tarka local governments under the umbrella of The Jemgbagh Concerned Youths have warned that Governor Samuel Ortom shouldn't be further blamed for the call for resignation of Iyorchia Ayu as the national chairman of the People's Democratic Party.
The group in a statement signed by its president, Comrade Philip Hundu maintained that it was Ayu that said it with his mouth that he would step aside immediately a Northern presidential candidate emerged, adding that Ayu's resignation at this moment would be in the best interest of the party.
Reacting to a statement credited to JDA that Governor Ortom was the one calling for Ayu's resignation, Hundu said: "Let it be known to JDA and their sponsors that Ayu's democratic antecedents are not being called to question here. That is an irrelevant posturing. His resignation is a matter of principle, equity, and justice.
"Dr. Ayu has served the country well, and the country has been good to him too. Now he has an opportunity to do what is right by resigning and continuing to enjoy the respect of well-meaning Nigerians, within and outside Benue.
"His intransigence can be termed an embarrassment to Benue and PDP. It will cost the party dearly. JDA and those who share their concerns should advise Dr. Ayu to sacrifice for the party.
"JDA, like Ayu, must look at the bigger picture. Ayu should resign now and help PDP reclaim power from the maladministration of the ruling APC than remain as National Chairman and we lose in 2023.
"Instead of whipping up emotional and clannish blackmail that Governor Ortom is pulling down Jemgbagh sons and by extension, underdeveloping the area, it is on record that the Governor has been fair to all parties and every part of Benue State in politics, infrastructural development and political patronage."