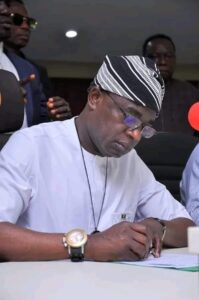 Nigerian Concord Newspaper
Governor of Benue state, Reverend Father Hyacinth Alia has started to attract bad names for himself and his administration over his level of impunity since he assumed duties on May 29, 2023.
Many believe that instead of Alia to sit up and give dividends of democracy to the people he governs, he has rather chosen to illegally persecute his predecessor, Chief Samuel Ortom PhD.
The recent was the illegal invasion of Chief Ortom's automobile company in Makurdi few days ago, an action which is still being condemned by local and international Rights groups across the globe.
Reacting to the illegal invasion in a press release sent to journalists yesterday, Human Rights Crusaders Group based in Dublin, Ireland condemned Alia's action, saying the Benue state governor has started his administration on a wrong note.
Speaking on behalf of its Regional Director in Abuja, Mr. Eric Cole, the Human Rights Crusader Group said that invading a private business office of Samuel Ortom is malicious and can be term as witch-hunting.
The Right group said it would be advisable if Alia sits up and performs to the expectations of those that elected him as governor instead of taking actions that are already ridiculing his administration.
Also reacting against the illegal raiding, Nigeria Defenders of Democracy said that Alia should stop witch-hunting his predecessor all in the name of recovering stolen assets.
The Nigeria Defenders of Democracy speaking through its media director, Comrade Alayande Dosumu in a telephone chat with one of our reporters in Lagos state yesterday stated that there was no reason for Alia to start taking over Ortom's properties illegally.
According to him, there is an existing document showing that the State Executive Council under the administration of Chief Samuel Ortom met and approved that he and his deputy, Engineer Benson Abounu should leave office with their official vehicles.
In view of this, the Rights group said that any action aimed at taking over the said vehicles from Ortom is illegal, and impunity taken too far.
The Nigeria Defenders of Democracy urged Alia to emulate his colleagues from other state as they have been performing wonderfully well in all areas.
The group said: "While other state governors are busy giving the dividends of democracy to the people they govern, Governor Hyacinth Alia is busy chasing shadows without any achievements for close to two months in office.
"We urged Alia to sit up and stop doing things that have given his administration a setback. One wonders what the governor is going to present as his achievements in 100 days in office"
Also, Benue Action Group has condemned the illegal raiding of Ortom's automobile shop, saying that the governor has seventy two hours to return all the vehicles he took away illegally all in the name of embarrassing his predecessor.
Benue Action Group in a statement signed by its president, Elder Simon Akume said that the group will be ready to take the Benue state government to a competent court of law if Governor Alia refuses to return the illegally impounded cars within the next seventy two hours.
To the group which has its headquarters in Makurdi, Governor Alia should learn governance from his counterparts from other states and stop chasing shadows.