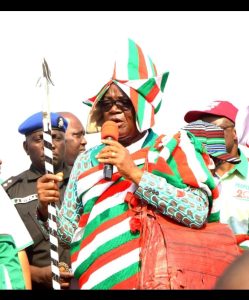 Nigerian Concord Newspaper
Kinsmen of Governor Samuel Ortom have explained that the Benue state governor is the best to represent the Benue Northwest senatorial zone in 2023 as a result of his unbeatable track records as governor for the past seven years.
Speaking in Gbajimbah the headquarters of Guma Local Government Area during the PDP governorship rally, the kinsmen to Governor Samuel Ortom said o one is qualified like the governor is he xe their decision to send him to represent Benue Northwest at the Senate.
Speaking, the Woman Leader of the Peoples Democratic Party, (PDP) in Guma LGA, Mrs Ruth Kpengwa, said Governor Ortom has done well in protecting lives and property of the Benue people.
Mrs Kpengwa who spoke in Tiv language said the governor needs to go to the senate so he could contribute to and push for legislations that would halt herdsmen invasions and attacks of the state.
"Let me reveal today the reason we are sending Ortom to the senate, we are sending him so that he can go there to move motion to stop herdsmen from invading the state," kpengwa said and called on all and sundry,n especially, women and children, to give him maximum support.
Also speaking, the incumbent senator representing the senatorial district, also called Zone B, Senator Oker Jev, said he decided not to contest against Ortom because his axis, Jemgbagh, has had full their turn.
Jev urged the people to vote Ortom as he is not only competent but also qualified to be in the red chamber.